Restriction Endonucleases
The Leader in the Discovery and Production of Restriction Enzymes
With > 45 years of offering restriction enzymes to the research community, NEB has earned the reputation of being a leader in enzyme technologies. Working continuously to be worthy of that distinction, NEB strives to develop enzymes of the highest purity and unparalleled performance.
NEB scientists continue to improve its portfolio of restriction enzymes, as well as explore their utility in new technologies. As a result, NEB scientists continue to publish scientific papers and to be awarded grants in this area. With the industry's largest research and development group dedicated to restriction enzymes, we are proud to have been there first: the first to commercialize a recombinant enzyme, the first to introduce a nicking enzyme. In addition, NEB has an ongoing history of innovation by engineering restriction enzymes with altered specificities and improved performance. Through continued research in these areas, we are committed to driving the innovations that allow us to offer maximum convenience and performance.
NEB feels that moving away from animal-containing products is a step in the right direction. We are excited to announce that we are in the process of switching all reaction buffers to be BSA-free! Learn more at www.neb.com/BSA-free.
For details on NEB's quality controls for restriction endonucleases, visit our Restriction Enzyme Quality page.


All of NEB's Restriction enzymes have transitioned to a new buffer system. Visit NEBCutSmart.com for further details.
Convenience
>210 restriction enzymes are 100% active in a single buffer – rCutSmart™ Buffer.
>180 restriction enzymes are Time-Saver qualified, meaning you can digest DNA in 5-15 minutes, or digest DNA safely overnight.
Choose from >265 restriction enzymes, the largest selection commercially available.

Performance
Choose a High-Fidelity (HF®) restriction enzyme, which has been engineered for reduced star activity, rapid digestion (5-15 minutes) and 100% activity in rCutSmart Buffer. A vial of 6X Purple Loading Dye is included with most restriction enzymes.
All of our restriction enzymes undergo stringent quality control testing, ensuring the highest levels of purity and lot-to-lot consistency.




| | |
| --- | --- |
| Physical Purity | Enzymes are evaluated by SDS-PAGE and silver-stained gels to ensure the highest levels of purity and the absence of contaminating proteins. |
| DNA Contamination | Enzymes are screened by qPCR to ensure no contaminating genomic DNA is present. The specification for this assay is less than one E.coli genome per sample. |
| Exonuclease Activity | Using radioactively labelled DNA substrate and/or state-of-the-art capillary electrophoresis-based assays with fluorescently-labelled substrates, NEB is able to detect very low levels of exonuclease activity. |
| Endonuclease Activity | To ensure that there are no contaminating enzymes that could cause nickng or non-specific nuclease degradation, reagents are incubated with supercoiled plasmid DNA for 4 hours to demonstrate the absence of endonuclease contamination. |
| Non-Specific DNase Activity | Enzymes are incubated overnight with Lambda DNA to confirm that there is no additional non-specific nuclease activity present. |
| Cloning QC (Ligation and Re-cutting) | A DNA template is over-digested by the appropriate restriction enzyme and the percentage of DNA fragments ligated and re-cut are determined by agarose gel electrophoresis. |
| Cloning QC (Blue-white Screening) | A DNA plasmid is over-digested by the appropriate restriction enzyme and the linearized plasmid DNA is ligated and transformed into an E.coli strain with greater than 99% correct transformants, as determined by a blue-white screen. |
Use Enzyme Finder to select restriction enzyme by name, sequence, overhang or type.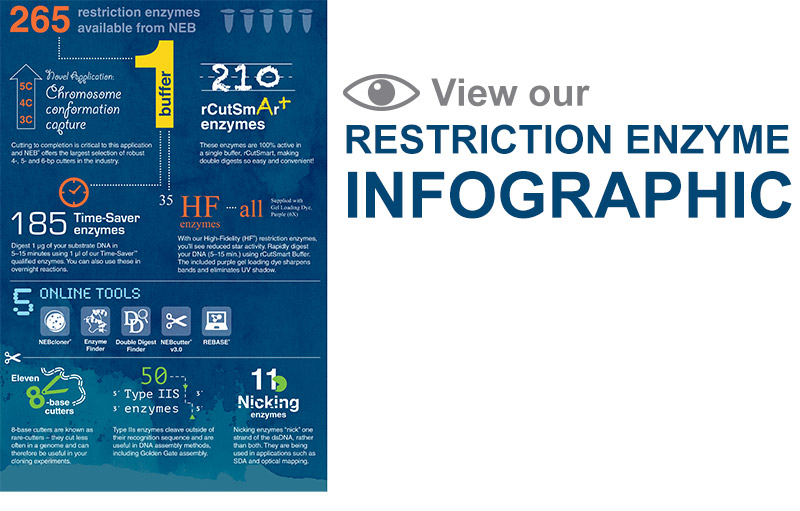 ---
Choose Type: