Nucleic Acid Purification
Workflows for detecting, analyzing, amplifying or manipulating DNA and RNA often require extraction and purification from a biological sample and/or enzymatic reactions. Monarch nucleic acid purification kits provide fast and reliable purification of high-quality DNA and RNA from a variety of sources using best-in-class silica column technology, and using a novel glass bead-based approach for HMW DNA extraction. DNA and RNA purified with Monarch Kits is highly-pure and suitable for use in a wide variety of downstream applications including sequencing, cloning, PCR and other enzymatic manipulations. Monarch kits are all designed with sustainability in mind; they use less plastic and are packaged in responsibly-sourced, recyclable material. For convenience, all Monarch kit components are also available separately.

Learn more about Monarch Kits, and request a free sample, at NEBMonarch.com.

See why Monarch Kits are an excellent choice for: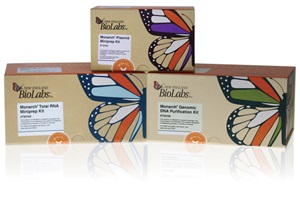 ---
Choose Type:
Nucleic Acid Purification includes these subcategories:
FAQs for Nucleic Acid Purification
Protocols for Nucleic Acid Purification
Application Notes for Nucleic Acid Purification
Tools & Resources

Feature Articles

Five Steps to a Greener Lab: A roadmap to environmental action

The laboratory is a place of inspiration, curiosity, ingenuity, and often altruism. Researchers are, by and large, a thoughtful and deeply invested group, but the environmental and ecological consequences of life science research are not typically at the forefront of researchers' minds when planning their investigations.
Legal Information
Products and content are covered by one or more patents, trademarks and/or copyrights owned or controlled by New England Biolabs, Inc (NEB). The use of trademark symbols does not necessarily indicate that the name is trademarked in the country where it is being read; it indicates where the content was originally developed. The use of this product may require the buyer to obtain additional third-party intellectual property rights for certain applications. For more information, please email busdev@neb.com.

This product is intended for research purposes only. This product is not intended to be used for therapeutic or diagnostic purposes in humans or animals.