NEBNext® Ultra™ II DNA Library Prep
NEBNext Ultra II kits are designed for construction of high-quality libraries using a broad range of input amounts, from pg to μg of DNA. The workflows are fast, streamlined and automatable, with flexible product formats to enable customization.
The original Ultra II DNA Library Kits for Illumina (NEB #E7645, E7103) enable construction of libraries from pre-sheared DNA, with an input range of 500 pg to 1 μg.
NEBNext Ultra II FS DNA Library Prep – a novel enzymatic fragmentation system
We have built upon our NEBNext Ultra II DNA library prep workflow to create a fragmentation system, the NEBNext Ultra II FS DNA Library Prep Kit. The Ultra II FS kit includes a new DNA fragmentation reagent, which is also combined with end repair and dA-tailing reagents, enabling these steps to be performed in the same tube, with no clean-ups or sample loss. The same fragmentation protocol is used for any input amount (100 pg–500 ng), or GC content.

You'll be thrilled to pieces with the result – a reliable, flexible, high-quality library prep that is fast and scalable.


Highlights of the NEBNext Ultra II FS Kit
Perform fragmentation, end repair and dA-tailing with a single enzyme mix
Experience reliable fragmentation with a single protocol, regardless of DNA input amount or GC content
Prepare high quality libraries from a wide range of input amounts: 100 pg–500 ng
Generate high yields with increased reaction efficiencies and minimized sample loss
Use with DNA in standard buffers (TE, Tris-HCl) and water
Save time with a streamlined workflow: ~ 2.5 hours, with < 15 minutes hands-on time
Vary incubation time to generate a wide range of insert sizes
Available with optional SPRIselect® beads for size selection/clean-up
See what others are saying about Ultra II
"In our core, we process large number of samples for genomics applications. Even with the high-throughput Covaris® model, the sample shearing is still a bottle neck for us. The NEBNext DNA DNA kit is such a wonderful product. First of all, it increased our throughput dramatically for DNA sample shearing. The kit combines the shearing, end-repair, dA-tailing, and linker-ligation in a couple simple steps without the need of purification in between. The whole process has been reduced from two days to a few hours. Second, we love the low input option. Because the kit eliminates the need for purification for each of the intermediate steps, it reduces a lot of sample loss during the purification steps, which enables us to use much less starting materials and saves tons on purification beads. Third, we are amazed by the randomness of the enzymatic shearing. We did not observe any significant difference from mechanical shearing. We have used this kit successfully with many large projects including high-throughput genomic screening assays for single cell derived clones.

- Scientist, Cancer research institute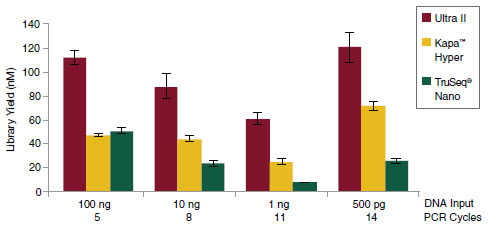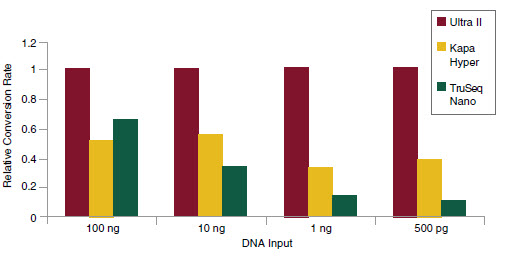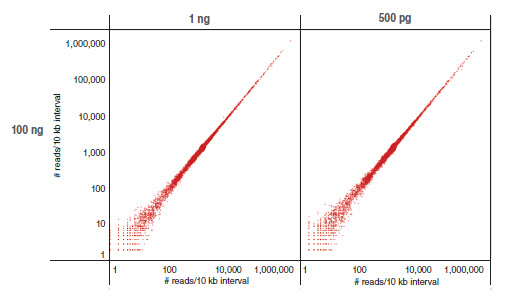 ---
Choose Type: