PNGase F – Designed for your application
The industry standard for purity
< Return to "PNGase F Products"

All of NEB's enzymes undergo extensive quality controls to ensure purity and lot-to-lot consistency. NEB glycosidases, including
PNGase F products
, are no different, and are tested for contaminating exoglycosidase, endoglycosidase and proteolytic activities. Unlike other suppliers, NEB uses fluorescently-labeled oligosaccharides to screen for contaminating activities, which increases sensitivity. Consistency and reproducibility are tested across three lots, ensuring optimized activity for your
application
.
Highlights
NEB is certified to both
ISO 9001:2008 and ISO 13485:2003
standards for quality management systems.
Recombinant enzymes; manufactured in-house
All glycosidase products from NEB exhibit ≥95% purity, as determined by SDS-PAGE and intact ESI-MS
Stringent quality control testing includes assays for detecting contaminating exoglycosidase, endoglycosidase and proteolytic activity
---
Quality data
Every NEB enzyme is subjected to a quality control assay to determine protein purity. The physical purity is assessed by both SDS-PAGE and intact ESI-MS analysis. An example of this is shown below, using PNGase F. It is imperative to hold these enzymes to a high quality standard, as they must be compatible with the needs of regulated applications and standardized procedures, as well being free of contaminants and side activities. High-quality products are also necessary to meet challenges associated with glycoproteomic analyses.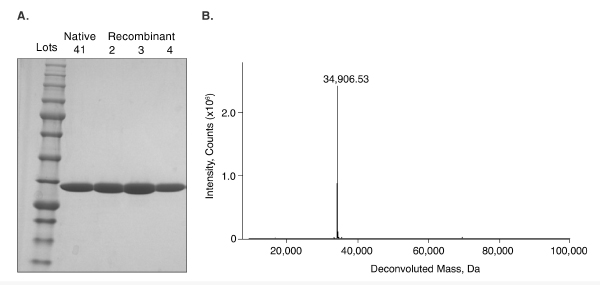 One or more of these products are covered by patents, trademarks and/or copyrights owned or controlled by New England Biolabs, Inc. For more information, please email us at gbd@neb.com. The use of these products may require you to obtain additional third party intellectual property rights for certain application.
Available PNGase F products:
Rapid PNGase F

Rapid PNGase F (NEB #P0710) completely deglycosylates antibodies and immunoglobulin fusion proteins in 10 minutes
Rapid PNGase F (non-reducing format) (NEB #P0711) completely deglycosylates in 10 minutes, while preserving disulfide bonds and quaternary structure for intact antibody analysis
Compatible with downstream HPLC and mass spectrometry analysis
Recombinant enzyme, releases N- glycans rapidly and without bias

PNGase F, Recombinant

Remove-iT™ PNGase F

Remove-iT PNGase F (NEB #P0706) is CBD-tagged for easy removal of the enzyme by incubation with chitin magnetic beads
Identical specificity and activity as non-tagged PNGase F

PNGase F