PNGase F
PNGase F is the most effective enzymatic method for removing almost all N-linked oligosaccharides from glycoproteins. PNGase F is an amidase, which cleaves between the innermost GlcNAc and asparagine residues of high mannose, hybrid, and complex oligosaccharides.
≥95% purity, as determined by SDS-PAGE and intact ESI-MS
Non-recombinant with no detectable endoglycosidase F1, F2 or F3 contamination
Stored in 50% glycerol; optimal activity and stability for up to 24 months
Can be used under native or denaturing conditions
Optimized for deglycosylation of glycoproteins; leaves N-glycan core oligosaccharides intact and suitable for further analysis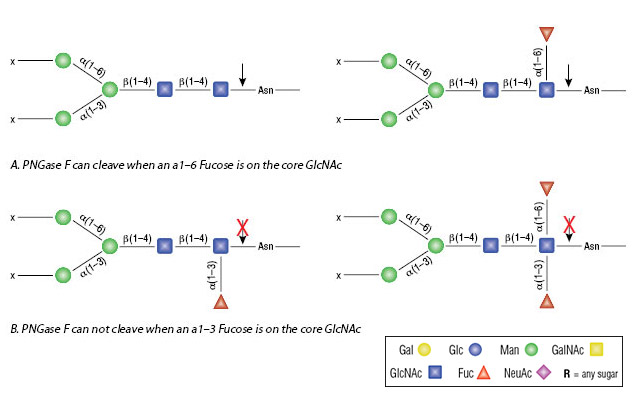 Featured Videos
Ineligible item added to cart
Based on your Freezer Program type, you are trying to add a product to your cart that is either not allowed or not allowed with the existing contents of your cart. Please review and update your order accordingly If you have any questions, please contact Customer Service at [email protected] or 1-800-632-5227 x 8.