Q5® High-Fidelity DNA Polymerases
The finest in fidelity – for over 10 years.
Q5® High-Fidelity DNA Polymerase (NEB #M0491) sets a new standard for both fidelity and robust performance. With fidelity >280 times higher than Taq, Q5 results in ultra-low error rates. Q5 is a novel polymerase that is fused to the processivity-enhancing Sso7d DNA binding domain, improving speed, fidelity and reliability of performance.
Q5 is also available in a hot start format (NEB #M0493). In contrast to chemically modified or antibody-based hot start polymerases, Q5 Hot Start High-Fidelity DNA Polymerase utilizes engineered oligonucleotides known as aptamers. The aptamer binds to the polymerase through non-covalent interactions, blocking enzyme activity during the reaction setup, and is dissociated during normal cycling conditions. Reactions can be set up at room temperature and a separate high temperature activation step is not required, shortening reaction times.
Q5 master mixes (NEB #M0492, #M0494) contain dNTPs, Mg++ and a proprietary broad-use buffer requiring only the addition of primers and DNA template for robust amplification, regardless of GC content.
NEW: Q5U® Hot Start High-Fidelity DNA Polymerase (NEB #M0515) is a modified version of Q5 High-Fidelity DNA Polymerase containing a mutation in the uracil-binding pocket that enables the ability to read and amplify templates containing uracil and inosine bases. This is useful for amplifying bisulfite-converted, enzymatically-deaminated, or damaged DNA, preventing carryover contamination in PCR (when used with dUTP and UDG), and in USER cloning methods. Learn more about this product.
NEW: Q5 Blood Direct 2X Master Mix (NEB #M0500) can amplify a wide variety of targets direct from dried blood spots or up to 30% whole human blood, skipping DNA purification. Learn more about this product.
Find the right Q5 product for your application
The five features of Q5 High-Fidelity DNA Polymerase
Extremely low error rates
At ~280X higher than Taq, Q5 offers unparalleled fidelity for your most important samples.


Robust amplification with minimal optimization
High specificity and yield are absolute requirements for today's molecular biology techniques.


Superior coverage for a broad range of amplicons, regardless of GC content
While other DNA polymerases can have difficulty amplifying high-GC or high-AT amplicons, Q5 displays superior performance for a wide range of templates.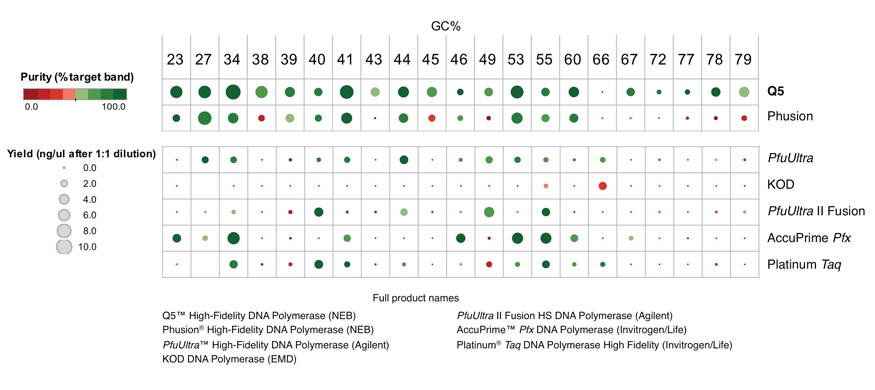 Shorter PCR protocols
Achieve precision without sacrificing speed. Q5's unique design incorporating the SSo7d processivity-enhancing domain enables shorter extension times, as low as 10 seconds per kb. Additionally, aptamer-based hot start requires no initial denaturation step and enables room temperature setup.


Amplify templates up to 20 kb
With Q5, you can reliably amplify simple templates up to 20 kb. Complex templates up to 10 kb can also be amplified with a high degree of confidence.

Q5® is a registered trademark of New England Biolabs, Inc.
LabChip® is a registered trademark of Caliper Life Sciences, part of Perkin Elmer, Inc.
---
Choose Type: