NEBNext FFPE DNA Repair Mix
Archiving of clinical materials as Formalin-Fixed, Paraffin-Embedded (FFPE) samples is a common practice. However, the methods used for fixation and storage significantly damage and compromise the quality of nucleic acids from these samples. As a result, it can be challenging to obtain useful information, including high-quality sequence data, especially when sample amounts are limited. The NEBNext FFPE DNA Repair Mix is a cocktail of enzymes formulated to repair DNA, and specifically optimized and validated for repair of FFPE DNA samples.

The DNA repair step is easily integrated into sequencing workflows for any platform, upstream of library preparation, and treatment results in both increased library yields and increased library quality.


Table 1: Types of FFPE DNA damage and their ability to be repaired by the NEBNext FFPE DNA Repair Mix
| | |
| --- | --- |
| FFPE DAMAGE TYPE | REPAIRED BY THE FFPE DNA ENZYME REPAIR MIX? |
| Deamination of cytosine to uracil | Yes |
| Nicks and gaps | Yes |
| Oxidized bases | Yes |
| Blocked 3´ ends | Yes |
| DNA fragmentation | No |
| DNA-protein crosslinks | No |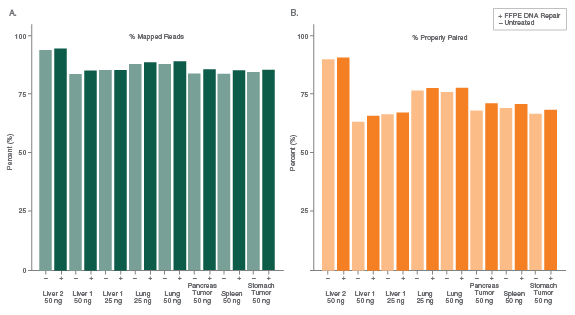 ---
Choose Type:
Protocols for NEBNext FFPE DNA Repair Mix
Legal Information
This product is covered by one or more patents, trademarks and/or copyrights owned or controlled by New England Biolabs, Inc (NEB).
While NEB develops and validates its products for various applications, the use of this product may require the buyer to obtain additional third party intellectual property rights for certain applications.

For more information about commercial rights, please email us at busdev@neb.com.

This product is intended for research purposes only. This product is not intended to be used for therapeutic or diagnostic purposes in humans or animals.
Videos
NEB researchers published a paper in Science highlighting DNA damage as a prevalent source of errors in public cancer databases. Learn about how addressing this damage could improve the detection of low-frequency disease variants.