1 kb Plus DNA Ladder
This product was previously named the 2-Log DNA Ladder. There have been no changes to product formulation or specifications. This product is available in Quick-Load Purple format - enjoy the convenience of a ready-to-load format.
A single convenient ladder for 100 bp up to 10 kb (100 bp and 1 kb ladder in one!)
Value pricing
Supplied with free vial of Gel Loading Dye, Purple (6X), no SDS (NEB #B7025)
Easy to identify reference bands
Small size suitable for 200 gel lanes; large size suitable for 1000 gel lanes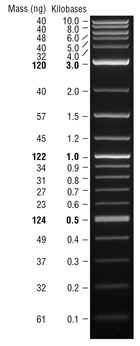 Ineligible item added to cart
Based on your Freezer Program type, you are trying to add a product to your cart that is either not allowed or not allowed with the existing contents of your cart. Please review and update your order accordingly If you have any questions, please contact Customer Service at [email protected] or 1-800-632-5227 x 8.