Infectious Diseases & ARTIC Sequencing
Together, the COVID-19 pandemic and the public health response to it are the most recent examples of how robust next generation sequencing (NGS) capacity is an essential element of a comprehensive infectious disease-preparedness plan. Public health labs, core labs, and individual research and development (R&D) teams mobilized to quickly and definitively identify the causative microbe with sequencing, develop point-of-care testing solutions, and watchfully monitor for novel mutations.
ARTIC Network Method
Supporting the fight against COVID-19, NEBNext® scientists developed a suite of NGS library prep products based on the ARTIC Network's SARS-CoV-2 sequencing protocol (Quick, J (2020) nCoV-2019 sequencing protocol v2 (GunIt)). Library prep kits were made available for SARS-CoV-2 sequencing on Illumina® (with and without in-built enzymatic fragmentation, and Oxford Nanopore Technologies® platforms, for broad applicability with existing sequencing infrastructure. The product development and bioinformatics teams at New England Biolabs ceaselessly tracked new variants to ensure that the available sequencing primers were optimized and updated for new variants as they were established.

Learn more about how New England Biolabs (NEB) supported SARS-CoV-2 sequencing with their range of NGS library prep reagents at the Sequencing and COVID-19 page.

For details on New England Biolabs' complete offering for infectious disease R&D, refer to Supporting Infectious Disease Research and Development.

For details on how the NEBNext ARTIC products, based on the original work of the ARTIC Network, are designed for reliable, accurate, and fast sequencing of SARS-CoV-2, visit NEBNext® ARTIC product for SARS-CoV-2 sequencing.
---
Choose Type:
Infectious Diseases & ARTIC Sequencing includes these subcategories:
Protocols for Infectious Diseases & ARTIC Sequencing
NEBNext ARTIC SARS-CoV-2 Library Prep Kit (Illumina) Workflow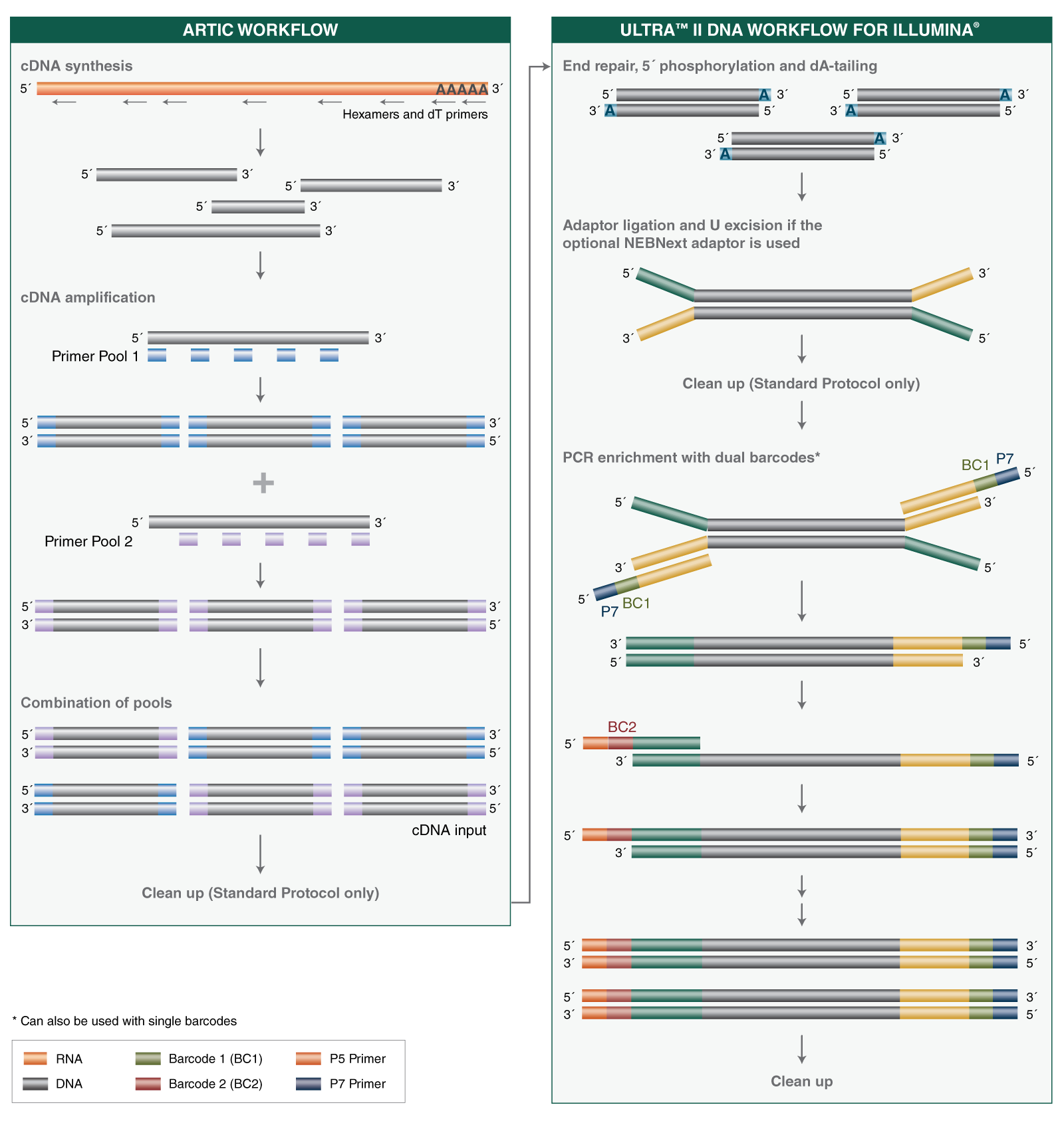 NEBNext ARTIC SARS-CoV-2 FS Library Prep Kit (Illumina) Workflow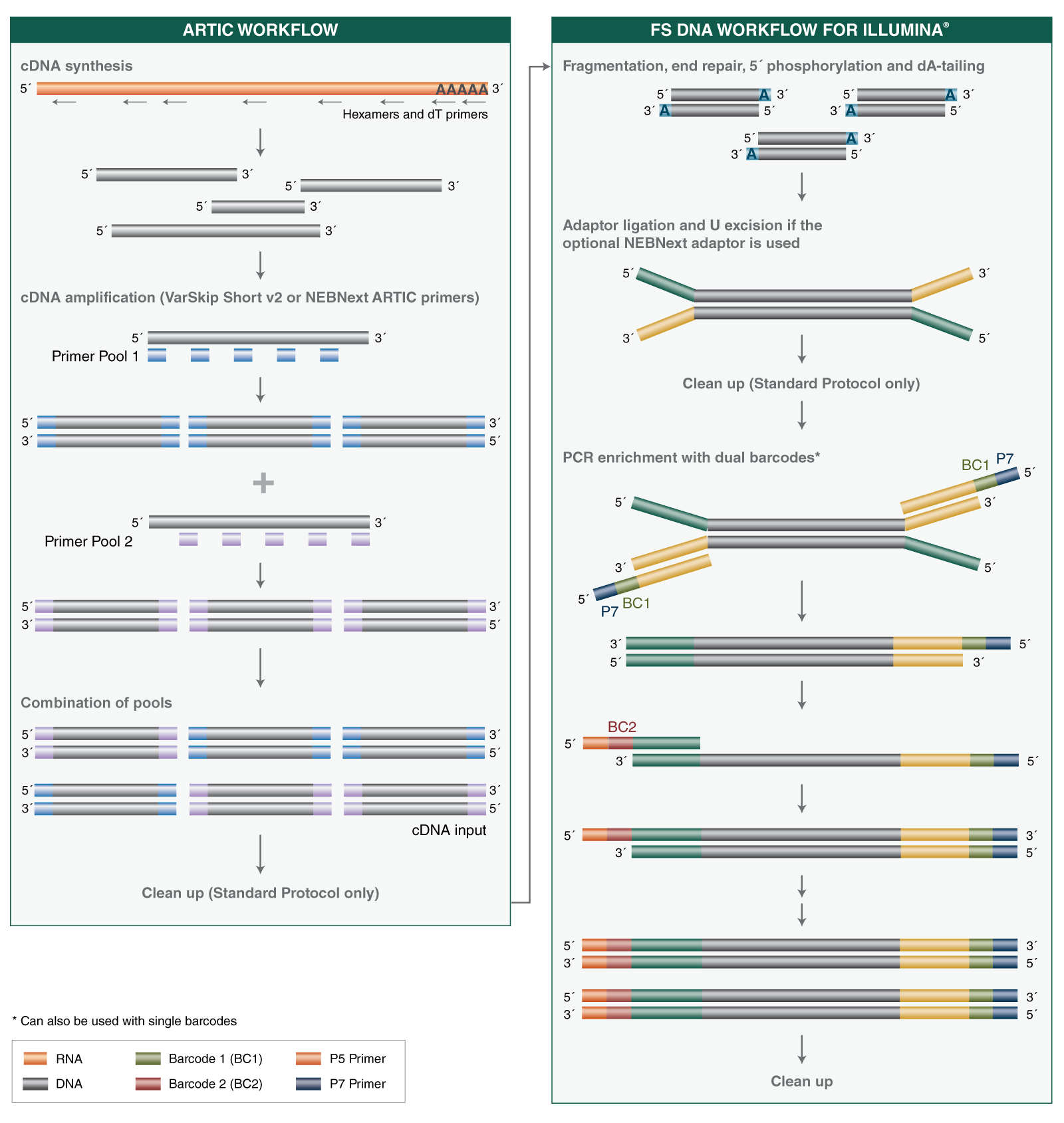 NEBNext ARTIC SARS-CoV-2 Workflow for Oxford Nanopore Technologies Sequencing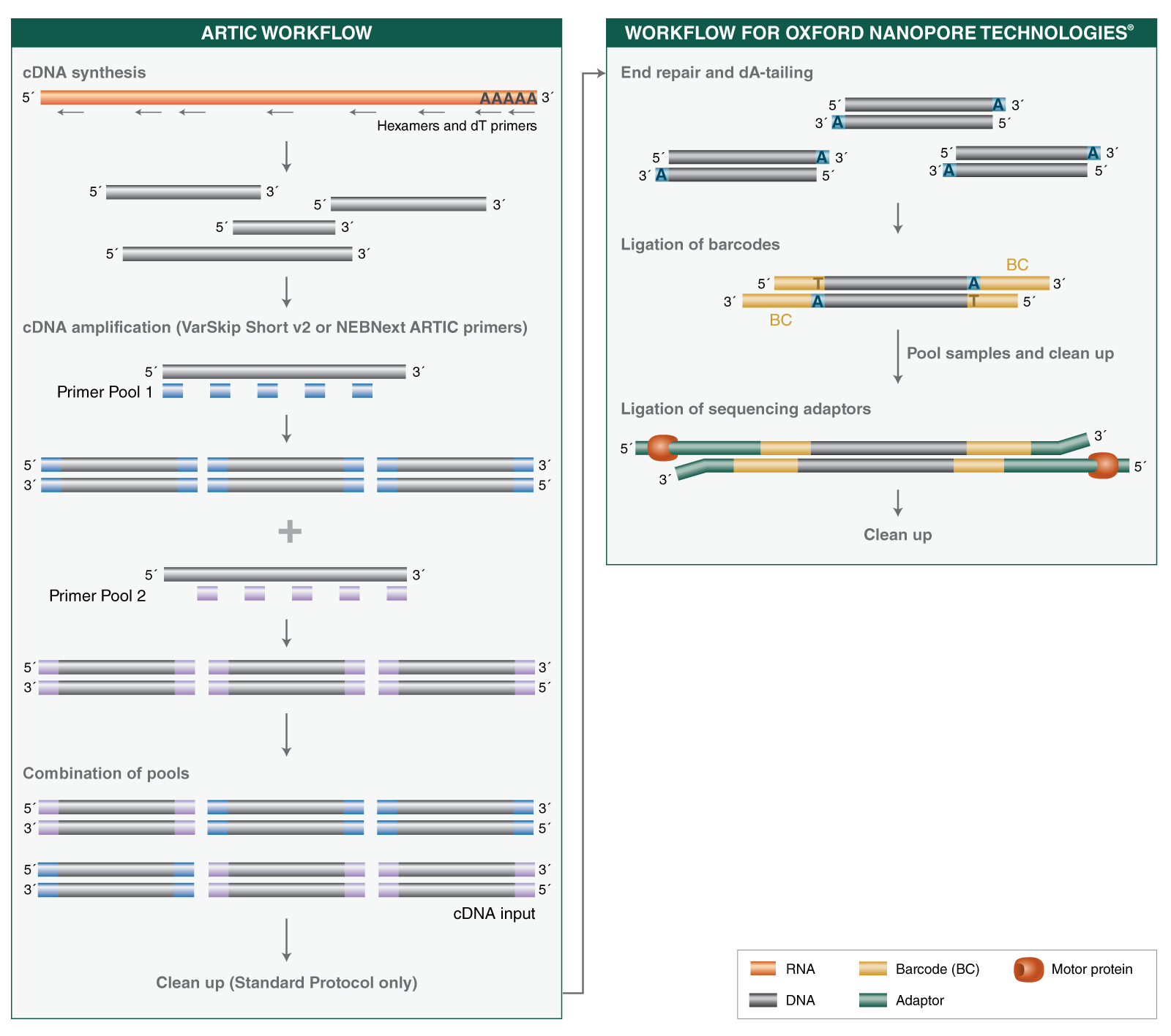 Legal Information
Products and content are covered by one or more patents, trademarks and/or copyrights owned or controlled by New England Biolabs, Inc (NEB). The use of trademark symbols does not necessarily indicate that the name is trademarked in the country where it is being read; it indicates where the content was originally developed. The use of this product may require the buyer to obtain additional third-party intellectual property rights for certain applications. For more information, please email busdev@neb.com.

This product is intended for research purposes only. This product is not intended to be used for therapeutic or diagnostic purposes in humans or animals.
Videos
This webinar covers efforts to monitor SARS-CoV-2 with whole-genome sequencing and NEB's optimization of targeted amplicon sequencing and genome coverage.

This webinar, presented by Kevin C. O'Connor, focuses on using large scale B cell receptor repertoire sequencing to further understand autoimmune disease.