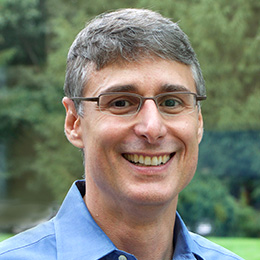 Tom Evans
Scientific Director
Ph.D., University of Minnesota, 1996
Area of focus:
Nucleic acid amplification, ligation, and repair.
Current Research:
My laboratory focuses on enzymes involved in DNA ligation, amplification, and repair. The ability to ligate DNA in vitro, particularly by T4 DNA ligase, facilitated the growth of the molecular biology field. Much is known about the mechanism that DNA ligases use to join DNA. Even so, there are many interesting structure/function and mechanistic questions still unresolved. We use T4 DNA ligase as a model ligase and apply techniques such as stopped flow, rapid quench, and capillary electrophoresis to gain further insights into the mechanism of DNA ligation. Our work has elucidated the rate constants for the various steps in the T4 DNA ligase reaction pathway. Furthermore, we demonstrated that product release is the rate-limiting step for T4 DNA ligase nick sealing reactions under turn-over conditions (Lohman, G. J., et al., J. Biol. Chem. (2011) 286:44187).
Another interest is in developing improved reagents and methods for DNA amplification. We perform PCR as part of our work, but we also routinely use sequence-specific isothermal amplification protocols such as Strand-displacement Amplification. These procedures have the sensitivity of PCR, but can be extremely fast and because they don't need to thermocycle they can be useful in areas of the world without reliable power sources. Currently, we have been taking interesting DNA polymerases from other groups within NEB and evaluating their performance in these techniques. This work has led to the development of a DNA polymerase with properties superior to Bst DNA polymerase, LF. Furthermore, a so-called "WarmStart" form of the enzyme is inactive at room temperature, but becomes active at temperatures above about 48oC. This gives isothermal technologies the advantage of room-temperature set-up and improved reproducibility.
In the past we developed an in vitro DNA repair mix termed "PreCR". This repair mix contains 7 enzymes and was designed to be as general as possible in its repair capabilities. With the advent of new DNA sequencing methods, this repair mix is finding utility in some systems for repairing DNA as part of DNA sample preparation for sequencing. It is unlikely that all the repair capability of PreCR is needed for this specific application. Therefore, we are developing a PreCR mix focused on the needs of NextGen sequencing sample preparation.
As part of our interest in DNA repair we investigated mismatch repair in the thermophilic bacterium Aquifex aeolicus. This deeply branched bacterium was found to have a mismatch repair pathway that had properties of both Escherichia coli and human mismatch repair (Mauris, J., & Evans, T. C., Jr., J. Biol. Chem. (2010) 285:11087; Mauris, J., & Evans, T. C., Jr., PLoS One (2009) 4:e7175). Perhaps this pathway orchestration is ancestral to both the E. coli and human pathways.
I hope that it is apparent from these project descriptions that my laboratory is interested in research that is both basic and applied. Inevitably a mixture of long, medium and short-term research goals are synergistic and intellectually stimulating.