OneTaq® DNA Polymerases

See what our customers are saying about OneTaq® DNA Polymerases
An optimized blend of Taq and Deep VentR™ DNA polymerases, OneTaq® and OneTaq® Hot Start DNA Polymerases offer robust amplification across a wide range of templates. The 3′–5′ exonuclease activity of Deep Vent DNA Polymerase increases the fidelity and robustness of Taq, and the hot start formulation combines convenience with decreased interference from primer dimers and secondary products. Additionally, OneTaq Reaction Buffers and High GC Enhancer have been formulated for robust yields with minimal optimization, regardless of a template's GC content. Both polymerases are available in master mix and Quick-Load® master mix formats.
In contrast to chemically modified or antibody-based hot start polymerases, NEB's OneTaq Hot Start utilizes aptamer technology. This unique modified oligonucelotide binds to the polymerase through non-covalent interactions, blocking polymerase activity at temperatures below 45°C. The polymerase is activated during normal cycling conditions, allowing reactions to be set up at room temperature.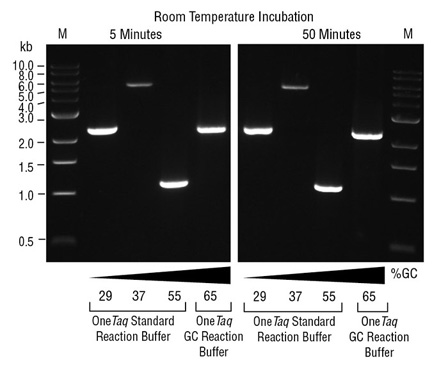 Deep VentR™ is a trademark of New England Biolabs, Inc.
OneTaq®, LongAmp® and Quick-Load® are registered trademarks of New England Biolabs, Inc.
---
Choose Type:
FAQs for OneTaq® DNA Polymerases
Protocols for OneTaq® DNA Polymerases
Advantages
Exceptional performance in endpoint PCR across a wide range of template
Robust yields with minimal optimization
Convenient product formats (stand-alone enzyme, master mixes, and Quick-Load® formats)
Hot start version allows room temperature reaction setup and does not require a separate activation step
Compatible with standard Taq protocols
Applications
High sensitivity PCR
High throughput PCR
Routine PCR
GC-rich PCR
AT-rich PCR
Primer extension
Colony PCR
Long PCR (up to ~6 kb genomic)
DNA Polymerase Selection Chart
Several factors govern which polymerase should be used in a given application, including:
Template/product specificity: Is RNA or DNA involved? Is the 3´ terminus at a gap, nick or at the end of the template?
Removal of existing nucleotides: Will the nucleotide(s) be removed from the existing polynucleotide chain as part of the protocol? If so, will they be removed from the 5´ or the 3´ end?
Thermal stability: Does the polymerase need to survive incubation at high temperature or is heat inactivation desirable?
Fidelity: Will subsequent sequence analysis or expression depend on the fidelity of the synthesized products?
OneTaq 2X Master Mix with GC Buffer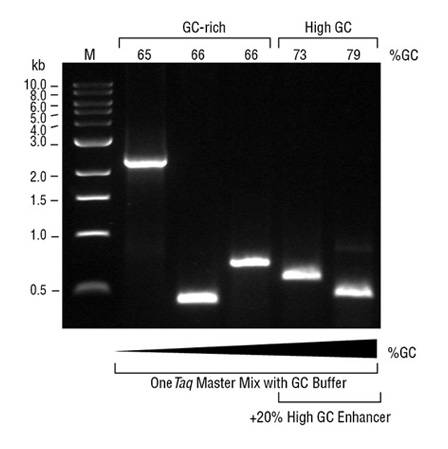 OneTaq 2X Master Mix with Standard Buffer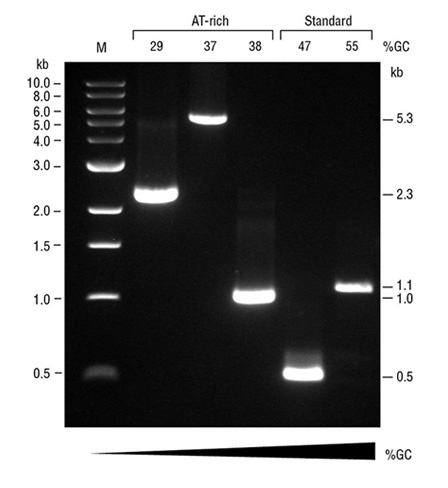 OneTaq Buffer Recommendations
OneTaq Hot Start vs Other Commercially Available Hot Start Polymerases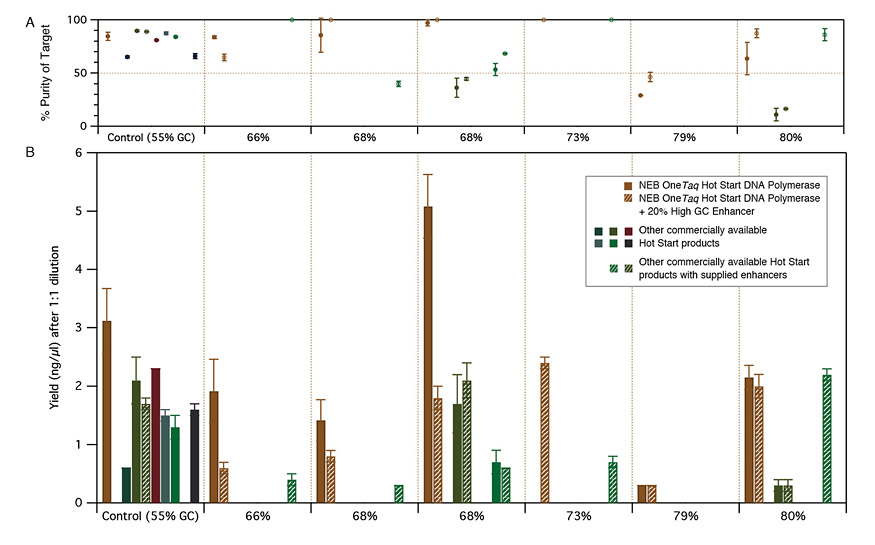 OneTaq vs Other Commercially Available Polymerases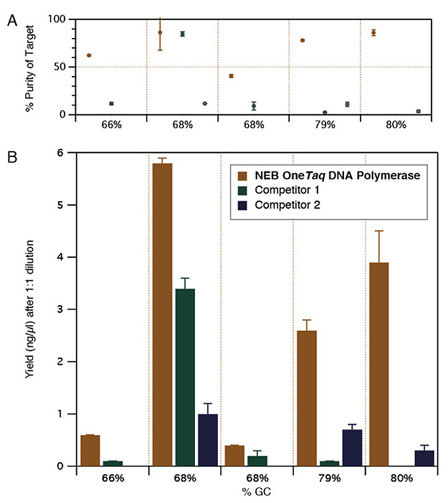 Recommended Time for Enzyme Activation
Legal Information
This product is covered by one or more patents, trademarks and/or copyrights owned or controlled by New England Biolabs, Inc (NEB).
While NEB develops and validates its products for various applications, the use of this product may require the buyer to obtain additional third party intellectual property rights for certain applications.
For more information about commercial rights, please contact NEB's Global Business Development team at
gbd@neb.com
.
This product is intended for research purposes only. This product is not intended to be used for therapeutic or diagnostic purposes in humans or animals.
Videos
Looking for tips on dealing with GC-bias in DNA amplification? NEB scientists have the expertise you need!

Make sure you're using the optimal polymerase for your DNA amplifications. Get tips on choosing the right DNA Polymerase for your application.