Thermolabile USER® II Enzyme
Thermolabile USER (Uracil-Specific Excision Reagent) II Enzyme generates a single nucleotide gap at the location of a uracil residue. It can be 100% inactivated at temperatures >65°C
Applications of Thermolabile USER II include:
Directional RNA Seq
NEBNext adaptor cleavage
USER cloning
Thermolabile USER II Enzyme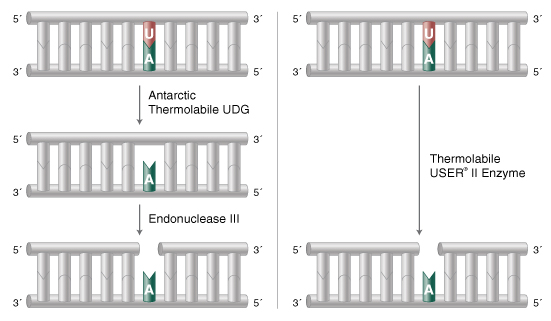 Antarctic Thermolabile Uracil DNA glycosylase (UDG) catalyzes the excision of a uracil base, forming an abasic (apyrimidinic) site while leaving the phosphodiester backbone intact. The lyase activity of Endonuclease III breaks the phosphodiester backbone at the 3´and 5´ sides of the abasic site. In addition to generating a different a 3´-terminus than USER Enzyme (a 3´-phospho-α, β-unsaturated aldehyde versus the 3´phosphate left by USER® Enzyme, NEB #M5505), Thermolabile USER II Enzyme (NEB #M5508) can also be completely heat inactivated after 10 minutes at 65°C.
---
Need a custom/large volume order? Contact Us

Bulk packaging may also be available and requested for large recurring orders.
Learn More
Ineligible item added to cart
Based on your Freezer Program type, you are trying to add a product to your cart that is either not allowed or not allowed with the existing contents of your cart. Please review and update your order accordingly If you have any questions, please contact Customer Service at [email protected] or 1-800-632-5227 x 8.