Cloning Competent Cell Strains
Ensure successful transformations with NEB competent E. coli for cloning. Choose from several high efficiency competent cell strains in a variety of formats that deliver performance, convenience and value.

Advantages:
High transformation efficiencies
Compatible with NEBuilder® HiFi DNA Assembly and Gibson Assembly® reactions, as well as ligation reactions. No dilution required!
Strains also available for cloning of toxic genes
All strains are free of animal products and are T1 phage resistant
Outgrowth medium and control plasmid are included
Choose from a variety of convenient formats, including single use tubes
Bulk formats and custom packaging are available
Take advantage of value pricing and no dry ice charges
Competent Cell Selection Guide
NEB Competent E. coli Sampler
Try all four cloning strains in our NEB Competent E. coli Sampler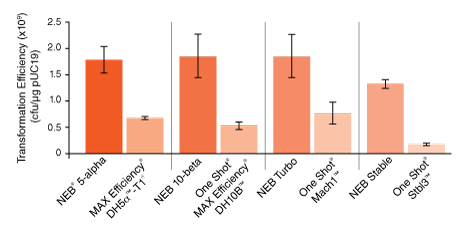 To help select the best strain for your experiment, please use NEBcloner®, our Cloning Competent Cell Selection Chart.
Competent Cell Formats
| Formats | NEB # | Single-use | 200 µl tubes | 96-well plate | Electrocompetent | Subcloning | Outgrowth Medium & Control Plasmid Included |
| --- | --- | --- | --- | --- | --- | --- | --- |
| NEB 5-alpha | C2987 | ✓ | ✓ | ✓ | | ✓ | ✓ |
| NEB 10-beta | C3019 | ✓ | ✓ | ✓ | ✓ | | ✓ |
| NEB Stable | C3040 | ✓ | ✓ | | | | ✓ |
| NEB Turbo | C2984 | ✓ | ✓ | | | | ✓ |
| dam-/dcm- | C2925 | ✓ | ✓ | | | | ✓ |
| NEB 5-alpha F'Iq | C2992 | ✓ | ✓ | | | | ✓ |
---
Choose Type:
FAQs for Cloning Competent Cell Strains
Protocols for Cloning Competent Cell Strains
Advantages of NEB Competent Cells
Free of animal products
T1 phage resistance (fhuA2)
Media and control plasmid included with most strains
A variety of convenient formats, including single use transformation tubes and, on request, 96 well plates
Bulk sales capabilities with custom packaging
Advantages of NEB Cloning Strains
High transformation efficiencies
EndA deficient for high quality plasmid preparation
T1 phage resistant
RecA deficient for reduced recombination of cloned DNA
Free of animal products
Suitable for blue/white screening
Available as single-use tubes or multiple use aliquots
Outgrowth media and control plasmid included
Bulk sales capabilities with custom packaging formats
High Transformation Efficiencies with NEB Competent E. coli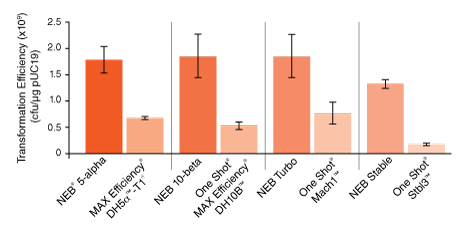 Legal Information
Products and content are covered by one or more patents, trademarks and/or copyrights owned or controlled by New England Biolabs, Inc (NEB). The use of trademark symbols does not necessarily indicate that the name is trademarked in the country where it is being read; it indicates where the content was originally developed. The use of this product may require the buyer to obtain additional third-party intellectual property rights for certain applications. For more information, please email busdev@neb.com.

This product is intended for research purposes only. This product is not intended to be used for therapeutic or diagnostic purposes in humans or animals.
Videos
Use this protocol for maximum transformation efficiency.

Follow these tips to get superior results.

In this video, see how transformation plating can be fast and easy using glass beads.