Monarch® Kits for RNA Cleanup
< Return to NEBMonarch.com


The Monarch RNA Cleanup Kits provide a fast and simple silica spin column-based solution for RNA cleanup and concentration after any enzymatic reaction (including in vitro transcription, DNase I treatment, capping and labeling) and after other purification methods such as phenol/chloroform extraction. The Monarch RNA Cleanup Kits are available in 3 different binding capacities: 10 μg (NEB #T2030), 50 μg (NEB #T2040) and 500 μg (NEB #T2050). Each kit contains unique columns, all designed to prevent buffer retention and ensure no carryover of contaminants, enabling low-volume elution of highly-pure RNA. Following the standard protocol, RNA ≥ 25 nt is purified with this kit; however, a modified protocol is available to enable the binding of RNA as small as 15 nt (including miRNAs).
Reasons to choose Monarch for RNA Cleanup
APPLICATIONS
RNA Cleanup and Concentration (including from the TRIzol aqueous phase)
RNA purified by other methods can be further purified
Enzymatic Reaction Cleanup
Enzymes such as RNA polymerases, DNase I, Proteinase K and phosphatases are removed allowing efficient desalting
In vitro Transcription Cleanup
Enzymes and excess NTPs are removed to yield highly pure synthesized RNA
RNA Gel Extraction
Purification of RNA from agarose gels
RNA Fractionation
Fractionation of RNA into small and large RNA pools
---
Flexibility in Binding Capacity and Elution Volume
Monarch RNA Cleanup Kit
NEB #T2030 (10 µg)
NEB #T2040 (50 µg)
NEB #T2050 (500 µg)
Binding Capacity:
10 μg
50 µg
500 µg
RNA Size Range:
≥ 25 nt ( ≥ 15 nt with modified protocol)
Typical Recovery:
70–100%
Elution Volume:
6–20 µl
20–50 µl
50–100 µl
Purity:
A260/280 > 1.8 and A260/230 > 1.8
Protocol Time:
5 minutes of spin and incubation time
10–15 minutes of spin and incubation time
Common Downstream Applications:
RT-PCR, RNA library prep for NGS, Small RNA library prep for NGS, RNA labeling
RT-PCR, RNA library prep for NGS, formation of RNP complexes for genome editing, microinjection, RNA labeling, transfection
RT-PCR, RNA library prep for NGS, RNA labeling, RNAi, microinjection, transfection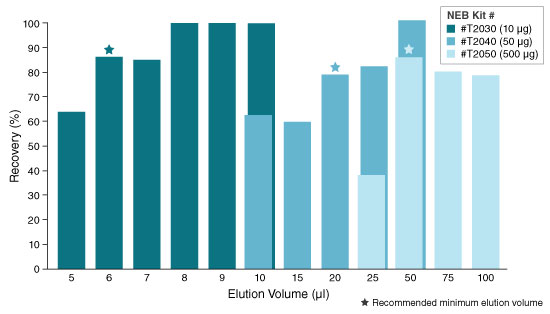 ---
Purify Large Amounts of RNA from IVT Reactions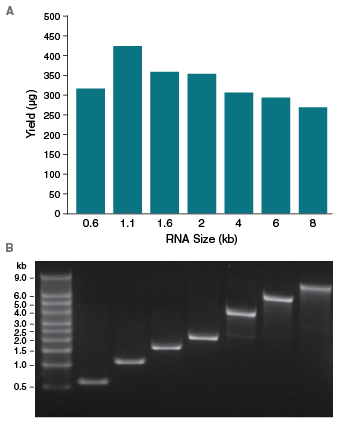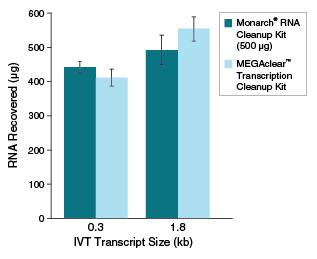 ---
Efficiently Remove Unincorporated Nucleotides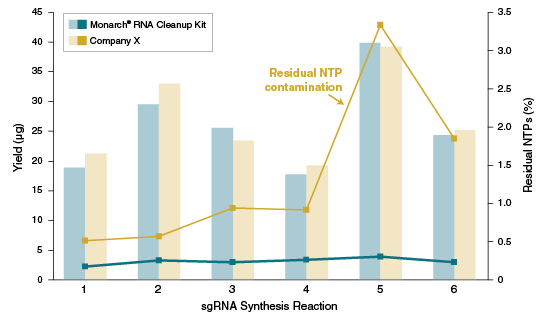 I often purify small amounts of inserts for ligations, so I appreciate the ability to elute in small volumes. I also very much appreciate the reduction of paper and plastic waste.
Videos
Learn how to use the Monarch RNA Cleanup Kits to quickly and easily purify RNA from enzymatic reactions including in vitro transcription reactions, labeling, and DNase I treatment.

Optimize the results of your RNA cleanups with these quick and simple tips.

Learn about the sources of RNase contamination and how you can prevent them from disrupting your experiments.

One or more of these products are covered by patents, trademarks and/or copyrights owned or controlled by New England Biolabs, Inc. For more information, please email us at gbd@neb.com. The use of these products may require you to obtain additional third party intellectual property rights for certain applications.