Protein Labeling (SNAP/CLIP)
SNAP- and CLIP-tag protein labeling systems enable the specific, covalent attachment of virtually any molecule to a protein of interest. There are two steps to using this system: cloning and expression of the protein of interest as a SNAP-tag® fusion, and labeling of the fusion with the SNAP-tag substrate of choice. The SNAP-tag is a small protein based on human O6-alkylguanine-DNA-alkyltransferase (hAGT), a DNA repair protein. SNAP-tag substrates are dyes, fluorophores, biotin, or beads conjugated to guanine or chloropyrimidine leaving groups via a benzyl linker. In the labeling reaction, the substituted benzyl group of the substrate is covalently attached to the SNAP-tag. CLIP-tag™ is a modified version of SNAP-tag, engineered to react with benzylcytosine rather than benzylguanine derivatives. When used in conjunction with SNAP-tag, CLIP-tag enables the orthogonal and complementary labeling of two proteins simultaneously in the same cells.
---
Choose Type:
FAQs for Protein Labeling (SNAP/CLIP)
Protocols for Protein Labeling (SNAP/CLIP)
Features
Clone and express once, then use with a variety of substrates
Non-toxic to living cells
Wide selection of fluorescent substrates
Highly specific covalent labeling
Applications
Simultaneous dual protein labeling inside live cells
Protein localization and translocation
Pulse-chase experiments
Receptor internalization studies
Selective cell surface labeling
Protein pull-down assays
Protein detection in SDS-PAGE
Flow cytometry
High throughput binding assays in microtiter plates
Biosensor interaction experiments
FRET-based binding assays
Single molecule labeling
Super-resolution microscopy
Protein Labeling with SNAP-tag and CLIP-tag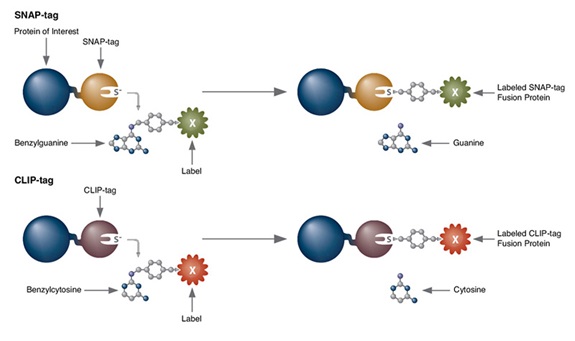 Legal Information
Products and content are covered by one or more patents, trademarks and/or copyrights owned or controlled by New England Biolabs, Inc (NEB). The use of trademark symbols does not necessarily indicate that the name is trademarked in the country where it is being read; it indicates where the content was originally developed. The use of this product may require the buyer to obtain additional third-party intellectual property rights for certain applications. For more information, please email busdev@neb.com.
This product is intended for research purposes only. This product is not intended to be used for therapeutic or diagnostic purposes in humans or animals.
Videos
Watch as Chris Provost, of New England Biolabs, performs fluorescent imaging of live COS-7 cells expressing SNAP-tag® fusion proteins.

View an interactive tutorial explaining the mechanism of our SNAP-tag® technologies and reagents available for researchers wishing to study the function and localization of proteins in live or fixed cells.