Microbiome DNA Enrichment
The microbiome comprises the collection of various microorganisms (e.g., bacteria and viruses) that reside within or on a host organism. There is active research into the human microbiome and how it differs between sites like the gut and the skin. Full identification of the individual microbes present within the microbiome requires use of next generation sequencing (NGS) for metagenomic analysis.

Microbiome DNA analysis can be challenging due to the high percentage of host (eukaryotic) DNA present in many samples. The NEBNext® Microbiome DNA Enrichment Kit facilitates enrichment of microbial DNA from samples containing methylated host DNA (including human), by selective binding and removal of the CpG-methylated host DNA. Importantly, microbial diversity remains intact after enrichment. The NEBNext Microbiome DNA Enrichment Kit is suitable for a wide range of sample types and is compatible with downstream applications including next generation sequencing on all platforms, qPCR and end-point PCR.

The Kit is also effective for separation of organelle DNA (e.g. mitochondria, chloroplast) from eukaryote nuclear DNA.

For a closer look at the NEBNext Microbiome DNA Enrichment Kit, read "Addressing Challenges in Microbiome DNA Analysis".

---
Choose Type:
FAQs for Microbiome DNA Enrichment
Tools & Resources

Feature Articles

Addressing Challenges in Microbiome DNA Analysis

Microbiome sample analysis is commonly confounded by the presence of host-cell DNA in the sample. The NEBNext® Microbiome DNA Enrichment Kit enables enrichment of non-CpG-methylated DNA from samples contaminated with eukaryotic-cell DNA.
Publications related to Microbiome DNA Enrichment
Erbay Yigit, David I. Hernandez, Joshua T. Trujillo, Eileen Dimalanta, and C. Donovan Bailey (2014) Genome and Metagenome Sequencing: Using the Human Methyl-Binding Domain to Partition Genomic DNA Derived from Plant Tissues. Appl Plant Sci; 2 (11), 1400064. PubMedID: 25383266, DOI: 10.3732/apps.1400064
George R. Feehery, Erbay Yigit, Samuel O. Oyola, Bradley W. Langhorst, Victor T. Schmidt, Fiona J. Stewart, Eileen T. Dimalanta, Linda A. Amaral-Zettler, Theodore Davis, Michael A. Quail, Sriharsa Pradhan (2013) A Method for Selectively Enriching Microbial DNA from Contaminating Vertebrate Host DNA PLoS One; 8 (10), e76096 . PubMedID: 24204593
Microbiome DNA Enrichment Workflow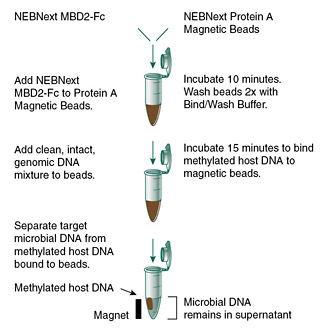 Legal Information
Products and content are covered by one or more patents, trademarks and/or copyrights owned or controlled by New England Biolabs, Inc (NEB). The use of trademark symbols does not necessarily indicate that the name is trademarked in the country where it is being read; it indicates where the content was originally developed. The use of this product may require the buyer to obtain additional third-party intellectual property rights for certain applications. For more information, please email busdev@neb.com.

This product is intended for research purposes only. This product is not intended to be used for therapeutic or diagnostic purposes in humans or animals.