Glycobiology is the study of the structure, function and biology of carbohydrates, also called glycans. Glycans are present in every living organism. Glycobiology is a rapidly growing field in biology, with relevance to biomedicine, biotechnology and basic research (1). In eukaryotic cells, the majority of proteins are post-translationally modified (2). One of the most common modifications, essential for cell viability, is the attachment of glycans, or "glycosylation". There are two types of glycosylation: N-linked (the glycan is attached to an asparagine) and O-linked (the glycan is attached to a serine or threonine).
Glycans are diverse, complex molecules and their functions are determined by their unique structures. Effective enzymatic tools and analytical techniques are required to properly elucidate glycan structure, which can then be correlated to a specific function.
Glycosylation defines the adhesive properties of proteins and cells. The immune system largely functions via glycan-protein interactions, which highlights the importance of glycans in physiology, pathogen recognition, cancer and autoimmune diseases.
Glycan molecules modulate many other processes important for cell and tissue differentiation, metabolic and gene regulation, protein activity, protein clearance, transport and more (3).
Considering the central role that glycans play in immune interactions, glycoproteins and carbohydrates are becoming the targets of next-generation therapeutics, vaccines and diagnostics.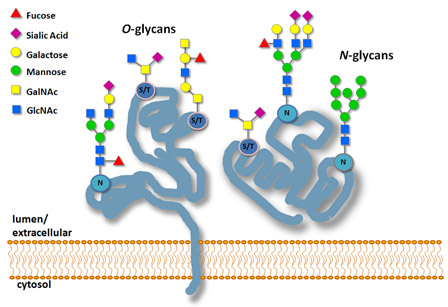 FAQs:
Featured Articles
Learn More
References:
Spiro, R.G. (2002) Glycobiology 12, 43R-56R. PMID 112042244.
Khoury, G.A., Baliban, R.C. and Floudas, C.A. (2011) Scientific Reports 1:90. PMID 22034591.
Freeze, H.H., Baum, L., Varki, A., et. al. Essentials of Glycobiology, 3rd Edition, Cold Spring Harbor Laboratory Press (2015-2017). PMID 28876823.