Protocol for Bridging double-stranded DNA with a single-stranded DNA oligo using NEBuilder HiFi DNA Assembly (NEB #E2621)
This method allows you to assemble a single-stranded DNA (ssDNA) oligo insert and a double-stranded DNA (dsDNA) vector fragment. The resulting construct can be used to prepare a library of inserts using the same overlap sequences at each end and a variable region in the middle, as in the following application note: Bridging dsDNA with a ssDNA Oligo and NEBuilder HiFi DNA Assembly to create an sgRNA-Cas9 Expression Vector
This protocol is recommended for the assembly of the following types of DNA fragment:
Short ssDNA inserts with 25 nucleotide (nt) overlaps
dsDNA vector linearized by PCR or restriction digest
The 3' mismatch removal capabilities of the NEBuilder HiFi DNA Assembly allow for short barcodes (<10 nt) and residual bases from restriction digestions to be removed during assembly. Please see the following video for more information: NEBuilder® HiFi DNA Assembly Removal of 3´ end Mismatches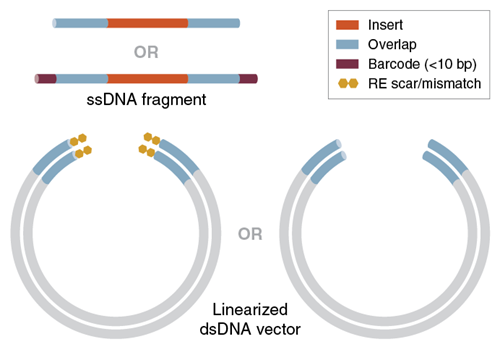 Single-stranded DNA oligo design
The ssDNA oligo should have 25-30 nucleotide overlaps on each end with the vector; there is no need to phosphorylate the 5' end. This protocol is recommended for short insert sizes (1-25 bases). Please be aware, longer ssDNA oligos are more prone to secondary structure formation which may impact assembly performance.
DNA Quantities
This protocol uses a 1:200 (vector:insert) molar ratio with 0.005 picomoles of vector and 1 picomole of ssDNA oligo.
Protocol
Dilute resuspended oligos (100 μM stock) to a final concentration of 0.2 μM (0.2 pmol/μl) using TE buffer (10 mM Tris, 0.1 mM EDTA; pH 8.0) supplemented with 50 mM NaCl (or 1X NEBuffer r2.1). This can be done by taking 1 µl of 100 μM oligo stock and diluting it with 499 μl of buffer.
Set-up the following reaction on ice:

* NEBioCalculator (NEBioCalculator.neb.com) can help with DNA mass to molar quantity conversions for both ssDNA and dsDNA.

Incubate the reaction at 50°C in a thermocycler for 60 min. Transform 2 μl of assembled mix into NEB 5-alpha Competent E. coli (High Efficiency) (NEB #C2987) following the recommended protocol.
Note: If you are working with large plasmids >10 kb in size we recommend NEB® 10-beta Competent E. coli (High Efficiency) (NEB #C3019H). If your plasmid or insert contain repetitive sequences, we recommend NEB® Stable Competent E. coli (High Efficiency) (NEB #C3040H).