NEBnow® Freezer Programs
Your research doesn't have to be put on hold waiting for that critical reagent to be delivered. With NEBnow, you can enjoy convenient and affordable access to NEB's high quality reagents, any time of the day.
---
What NEBnow can do for you
Reagents available when you need them
As a researcher, a stockroom manager or a lab operations manager, NEBnow provides convenient onsite access to the reagents critical to your research program's discoveries. With customized inventory always within reach, save time and resources by streamlining the procurement process. NEBnow automates inventory management and ordering and reduces the number of shipments, purchase orders and invoices.
Promote environmental stewardship
Minimize your environmental footprint with fewer deliveries and less packaging waste. All shipments are consolidated and delivered in a NEB ClimaCell® Cooler – a 100% recyclable solution for cold chain shipping.
---
What to expect with NEBnow
---
NEB currently offers two freezer options, the NEBnow Automated Freezer and the NEBnow Standard Freezer.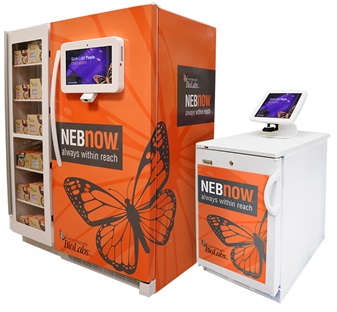 NEBnow Automated Freezer Program
This solution is recommended for stockrooms, core facilities, large labs or research groups.
Choose from a 5–14 cu ft. -20°C freezer, with optional room temperature cabinet
Complete digital experience for users
Products stocked on consignment, with optional non-stock ordering
Secure lock-controlled access with reagent availability 24/7
Automated inventory management and invoicing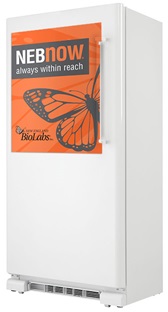 NEBnow Standard Freezer Program
This solution is recommended for stockrooms or core facilities who prefer to manage their own inventories.
Choose from a selection of freezer units (5–20 cu ft.)
Free shipping with consolidated shipments
Greater efficiency with inventory analysis report
The NEBnow freezer program is an amazing addition; having 24/7 access to the NGS reagents has been extremely helpful. NEB allows you to customize the freezer to hold the items you use most, saving us valuable time by cutting out the ordering process!
The NEBnow freezer program has been a much needed and valuable addition to our campus. It has allowed us to provide that extra level of service and product availability that our researchers require to continue to stay ahead in the research community. NEB's freezer program support team has provided us with the same high level of customer service and attention to detail that NEB is known for.
Products and content are covered by one or more patents, trademarks and/or copyrights owned or controlled by New England Biolabs, Inc (NEB). The use of trademark symbols does not necessarily indicate that the name is trademarked in the country where it is being read; it indicates where the content was originally developed. The use of this product may require the buyer to obtain additional third-party intellectual property rights for certain applications. For more information, please email busdev@neb.com.