Monarch® Nucleic Acid Purification Kit – Environmental FAQs and Calculations
1.
How much less plastic is used in the Monarch kits, as compared to the leading
supplier's kits?

We have been able to reduce the total plastic in the Monarch kits by an average of 34%, as compared to the leading supplier's kits, without compromising performance. Each kit and kit size contains a different quantity of total plastic, so in order to determine this figure, we assessed each kit type in each available size, and took the average. The reduction in plastic ranges anywhere from 28% to 44% less plastic, depending on the kit type and size. View fact sheet.


2.
How have you been able to achieve this plastic reduction?

Monarch columns and collection tubes are generated with a custom mold, allowing us to reduce the amount of plastic used by thinning the walls without compromising performance. In addition, we chose lighter-weight bottles and used bottle sizes that were appropriate for the amount of liquid contained inside.


3.
What does 100% post-consumer paper mean?

"Post-consumer" means that the materials are derived from paper goods previously used by consumers. Magazines, cardboard boxes and office paper are put through a process by which they are pulverized and remade into paper products, such as our cardboard box. 100% of the fiber in our outer boxes comes from reclaimed post-consumer material.


4.
Are the boxes recyclable, even though they contain small magnets?

YES! The boxes are fully recyclable in paper recycling streams. The recycling process of paper recycling includes a step where a magnet is used to pull out any metal present in the paper stream, including staples and fasteners. During this step, the small magnets will be removed from the recycling stream, enabling the paper material to continue in the recycling process. Learn how to recycle your Monarch kit components.


5.
Why did you put magnets into your boxes?

One of the best things we can do for the environment is to reduce (reduce, reuse, recycle!). The second best thing we can do is to reuse. We have designed these boxes with very small magnets in order for them to be sturdy and reusable so that you can utilize them for lab storage when you are done. If you prefer to recycle them, they collapse flat for an easy fit into your nearest paper recycling bin.


6.
Can I recycle the columns and collection tubes? What about the silica in the column matrix?

Yes, you can recycle the columns and collection tubes. These are made from polypropylene (#5) and can be recycled with other hard plastics. There is such a small trace of silica present in the membrane that it does not interfere with recycling processes. In order to maximize the quality of post-consumer plastic made from the recycled materials, it is ideal to pop out the membrane before recycling (Association of Post-Consumer Plastic Recyclers). That said, please refer to your institution's policies and guidelines regarding disposal, especially when dealing with biohazard waste.


7.
My institution does not have the capability to recycle LDPE (low-density polyethylene/ plastic films). What can I do with the bags which hold the columns?

Some recycling streams do not accept plastic films. If this is the case, you can bring them to a location which will accept them, such as a grocery store or your municipal recycling center. Better yet, re-use these to store common lab items like microfuge tubes and cell vials.

Available kits include:
Monarch Total RNA Miniprep Kit
Extract and purify up to 100 µg of high-quality RNA from a variety of sample types with a single, convenient kit. DNase I, gDNA removal columns, Proteinase K, and a protection reagent are all included. Monarch-purified RNA is ready to use in RT-PCR, RT-qPCR, RNA-seq and other applications.

Monarch Plasmid Miniprep Kit
This kit employs familiar cell resuspension, alkaline lysis and neutralization steps, with the additional benefit of color indicators to monitor completion. Elute in lower volumes for more concentrated, highly pure DNA samples.

Monarch DNA Gel Extraction Kit
Rapidly purify up to 5 μg of concentrated, high-quality DNA from your agarose gels, with no need to adjust pH. Elute in as little as 6 μl for a more concentrated sample. Enjoy high yields and minimal hands on time.

Monarch PCR & DNA Cleanup Kit (5 μg)
Purify DNA from a variety of enzymatic reactions, including PCR, restriction digestion, ligation and reverse transcription. Also isolate small DNA including oligos with a slight protocol modification.
Request a sample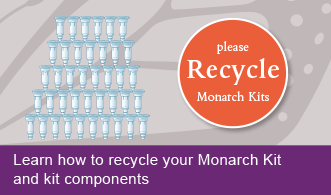 One or more of these products are covered by patents, trademarks and/or copyrights owned or controlled by New England Biolabs, Inc. For more information, please email us at gbd@neb.com. The use of these products may require you to obtain additional third party intellectual property rights for certain applications.