Phage Display
Phage display technology is an in vitro screening technique for identifying ligands for proteins and other macromolecules. At the crux of phage display technology is the ability to express peptide or protein sequences as fusions to the coat proteins of a bacteriophage. Libraries of phage-displayed peptides or proteins are thereby physically linked to their encoding nucleic acid, allowing selection of binding partners for myriad target types by iterative rounds of in vitro panning and amplification, followed by DNA sequencing. Libraries of over a billion members can be screened in a matter of days, offering an efficient alternative to more traditional methods of epitope mapping, receptor ligand identification, or protein evolution.
---
Choose Type:
Protocols for Phage Display
Application Notes for Phage Display
Publications related to Phage Display
McGuire MJ, Gray BP, Li S, Cupka D, Byers LA, Wu L, Rezaie S, Liu YH, Pattisapu N, Issac J, Oyama T, Diao L, Heymach JV, Xie XJ, Minna JD, Brown KC (2014) Identification and Characterization of a Suite of Tumor Targeting Peptides for Non-Small Cell Lung Cancer Sci Rep; 4, 4480. PubMedID: 24670678, DOI: 10.1038/srep04480
Grin I, Hartmann MD, Sauer G, Hernandez Alvarez B, Schütz M, Wagner S, Madlung J, Macek B, Felipe-Lopez A, Hensel M, Lupas A, Linke D (2014) A trimeric lipoprotein assists in trimeric autotransporter biogenesis in enterobacteria J Biol Chem; 289(11), 7388-98. PubMedID: 24369174, DOI: 10.1074/jbc.M113.513275
Fatima A, Wang H, Kang K, Xia L, Wang Y, Ye W, Wang J, Wang X. (2014) Development of VHH Antibodies against Dengue Virus Type 2 NS1 and Comparison with Monoclonal Antibodies for Use in Immunological Diagnosis PLoS One; 9(4), e95263. PubMedID: 24751715, DOI: 10.1371/journal.pone.0095263
Kaur K, Taneja NK, Dhingra S, Tyagi JS (2014) DevR (DosR) mimetic peptides impair transcriptional regulation and survival of Mycobacterium tuberculosis under hypoxia by inhibiting the autokinase activity of DevS sensor kinase BMC Microbiol; 14, 195. PubMedID: 25048654, DOI: 10.1186/1471-2180-14-195
Matochko WL, Cory Li S, Tang SK, Derda R (2014) Prospective identification of parasitic sequences in phage display screens Nucleic Acids Res; 42(3), 1784-98. PubMedID: 24217917, DOI: 10.1093/nar/gkt1104
Nguyen KT, Adamkiewicz MA, Hebert LE, Zygiel EM, Boyle HR, Martone CM, Meléndez-Ríos CB, Noren KA, Noren CJ, Hall MF (2014) Identification and characterization of mutant clones with enhanced propagation rates from phage-displayed peptide libraries Anal Biochem; 462C, 35-43. PubMedID: 24952360, DOI: 10.1016/j.ab.2014.06.007
Baumgartner J, Carillo MA, Eckes KM, Werner P, Faivre D. (2014) Biomimetic Magnetite Formation From Biocombinatorial Approaches to Mineralization Effects Langmuir; 30(8), 2129-36. PubMedID: 24499323, DOI: 10.1021/la404290c
Maneewatch S, Adisakwattana P, Chaisri U, Saengjaruk P, Srimanote P, Thanongsaksrikul J, Sakolvaree Y, Poungpan P, Chaicumpa W (2014) Therapeutic epitopes of Leptospira LipL32 protein and their characteristics Protein Eng Des Sel; 27(5), 135-44. PubMedID: 24760832, DOI: 10.1093/protein/gzu006
Shires K, Shankland I, Mowla S, Njikan S, Jaymacker J, Novitzky N (2014) Serine and proline-rich ligands enriched via phage-display technology show preferential binding to BCR/ABL expressing cells Hematol Oncol Stem Cell Ther; 7(1), 32-40. PubMedID: 24480037, DOI: 10.1016/j.hemonc.2014.01.001
Lu, R.-M. et al (2013) Targeted drug delivery systems mediated by a novel peptide in breast cancer therapy and imaging PLoS One; 8(6), e66128. PubMedID: 23776619, DOI: 10.1371/journal.pone.0066128
Cieslewicz, M. et al (2013) Targeted delivery of proapoptotic peptides to tumor-associated macrophages improves survival Proc Natl Acad Sci U S A; 110, 15919-24. PubMedID: 24046373, DOI: 10.1073/pnas.1312197110
Gonzalez, A.M. et al. (2011) Targeting choroid plexus epithelia and ventricular ependyma for drug delivery to the central nervous system BMC Nurosci; PubMedID: 21214926
Balian, G. et al. (2010) Peptides from phage display library modulate gene expression in mesenchymal cells and potentiate osteogenesis in unicortical bone defects J Vis Exp; 46, PubMedID: 21178970
Cao, Q. et al. (2010) Phage display probes for imaging early response to bevacizumab treatment Amino Acids; PubMedID: 20232090
Wu, C. and Tzertzinis, G.
Applications
Epitope mapping
Identification of protein-protein contacts (1) and enzyme inhibitors (2)
Discovery of peptide ligands for GroEL (3), HIV (4-7), semiconductor surfaces (8) and small-molecule fluorophores (9) and drugs (10)
Bioactive receptor ligands have been identified both by panning against purified receptors (11-14) and against intact cells (15-18)
Peptides which target specific cell types have been isolated by in vitro panning and used for cell-specific gene delivery (19-22)
Ligands for mold spores (23) and bacterial cells (24) have also been identified using this system, including a peptide that specifically inhibits anthrax toxin, both in vitro and in vivo (25)
Tissue-specific peptides have been isolated by in vivo panning, in which phage is injected into a live animal, the relevant organs harvested and phage isolated from each tissue type (26,27)
References
Phage Display Overview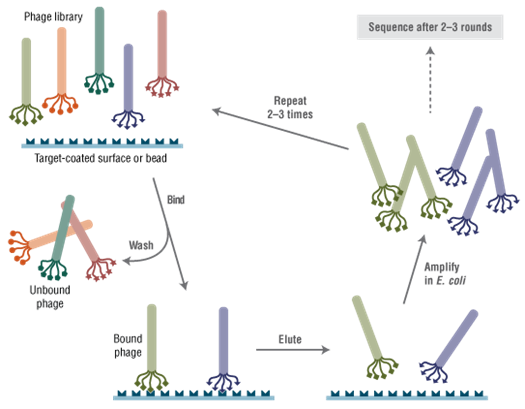 Legal Information
Products and content are covered by one or more patents, trademarks and/or copyrights owned or controlled by New England Biolabs, Inc (NEB). The use of trademark symbols does not necessarily indicate that the name is trademarked in the country where it is being read; it indicates where the content was originally developed. The use of this product may require the buyer to obtain additional third-party intellectual property rights for certain applications. For more information, please email busdev@neb.com.
This product is intended for research purposes only. This product is not intended to be used for therapeutic or diagnostic purposes in humans or animals.
Videos
Isolating, by biopanning, the phage that binds to bone allows researchers to identify the peptide sequences that stimulate the differentiation of mesenchymal cells and potentiate bone repair.