New England Biolabs® is committed to supporting the worldwide scientific research community, as well as our industrial customers' technology platforms, by supplying the highest quality reagents, backed by unmatched product and customer support.

NEB's Quality Unit is responsible for developing and executing stringent quality standards for NEB's entire portfolio of products. The structure of the Quality Unit enables a two-tiered approach to evaluating and ensuring product quality. At the compliance level, NEB is guided by the ISO quality certifications that it has been awarded. These standards require a transparent and traceable process, from beginning to end. Certificates of Origin and Change Management are two such processes. At the analytical level, NEB relies on its assortment of cutting-edge quality controls, designed for assessing a product's physical attributes and confirming the physical purity of finished products.

Below, you'll find additional details on NEB's Quality Unit, including: NEB's Quality Policy details NEB's commitment to achieving and maintaining the highest possible product quality. The Life Science Industry Awards (LSIA) recognized NEB's molecular biology products as having exceptional purity and performance. Learn more in our press releases.

For questions about NEB's quality processes for standard and custom products, please contact info@neb.com.
NEB's Quality Assurance team maintains strict quality standards and recordkeeping, ensuring the traceability and accuracy of NEB's product data. Below are just a few of the ways in which NEB ensures that its processes are beyond reproach. If you have any questions, please contact
info@neb.com
.
NEB holds both ISO 13485: 2016 and ISO 9001: 2015 certifications at its facilities in Ipswich, Rowley and Beverly, MA (USA). Learn more about our ISO certifications on our
Certifications
page.
To better serve the needs of customers in regulated markets, NEB has opened a state-of-the-art 43,000 sq. ft. production facility in Rowley, MA for the manufacture of GMP-grade* materials – approximately 15 minutes from our main campus in Ipswich, MA, USA. This purpose-built facility includes Quality Control and Production functions ranging from a shipping/receiving area and dedicated warehouse, to separate inoculation preparation, fermentation, purification and fill suites.
Product Certificates of Origin are available upon request.
Established validation programs for:

– Specialized products (e.g., NEBNext® Library Preparation kits) – Shipping process
– Automated filling lines
– Product storage chambers
– Critical process equipment

Change Management and Customer Notification of Changes
Use of a validated 21CFR Part 11-compliant electronic Quality Management Software (eQMS) for Quality records and document control
NEB has been recognized for the quality of its products; most recently, NEB was awarded a Life Science Industry Award® (LSIA) for its "Molecular Biology Products", citing both product purity and performance. Additional details can be found in our press release.
Case studies (>40 available upon request) of the use of NEB products in regulated applications are available. NEB reagents are currently used in the following regulated applications:

– Molecular Diagnostics
– Food Safety Testing
– Animal Health
– Pharmaceutical QC reagents and starting materials
New England Biolabs now has a policy of assigning expiration dates to many of our enzymes and reagents. This policy is designed to satisfy the needs of a growing number of our customers who require such information to meet their regulatory requirements. For such customers, the expiration date indicates the period of time over which NEB will guarantee 100% activity of the enzyme if stored under the recommended storage conditions.*
Our expiration dates have been developed as a result of many years of experience with our products and represent a minimum guaranteed life expectancy for full activity of a given product. It is not the intent of this dating policy to imply that a product will necessarily lose activity after the expiration date. In fact, many of our enzymes will retain significant, if not full, activity for many months or even years after the expiration date. For many basic research applications, enzyme vials may be suitable for use well past their stated expiration date. Disposal and or continued use of enzymes past their expiration dates should be at the discretion of the end user.
* Enzymes should be stored long-term at the recommended temperature (most often -20°C; some enzymes have alternate recommended storage temperatures, such as -80°C). During use, enzymes should be stored on ice, and then returned to their long term storage conditions promptly after use.
Barcoding System
NEB uses a barcoding system that allows enhanced tracking of product within NEB, increases the accuracy of our shipping operations and also provides expanded product information for each shipped item.
The barcode (see image below) is based on Code 128 symbology, consists of a six-digit catalog number (eg., R0650S), an eight-digit lot number (eg., 10008628), a four-digit assay date (eg., 1803), and a four-digit expiration date (eg., 2003). For the four pieces of coded information (cat #, lot #, assay date, exp. date), the details are as follows:
catalog # - the standard six-digit system is our standard catalog number.
lot # - NEB utilizes a system-assigned, non-intelligent lot number to identify every unique packaging run. This lot number is printed on the outside of the package and embedded in the package barcode.
assay date - this is a four-digit sequence, YYMM; for example, 1803 would indicate an assay date of March 2018.
expiration date - this is a four-digit sequence, YYMM; for example, 2003 would indicate an expiration date of March 2020.

Quality Control
NEB's Quality Control team is at the heart of what sets NEB's products apart from competitors' – their outstanding purity and performance. Below are just a few of the ways in which NEB ensures its product quality. If you have any questions, please contact
info@neb.com
.
A range of standard
Quality Controls
are run for each product.
Stability testing methodology includes:

– Accelerated testing

– Freeze/thaw testing

– Rotational stress

– Real-time testing

New product shelf life is set based on accelerated testing, performance of similar products, and verified by real-time testing.
Fully packaged retains are stored under controlled conditions for one year past expiration date.
Proprietary methods are developed by Research, Applications and Product Development scientists, and verified by Product Managers and the Quality Control lab.
Availability of Certificates of Analysis and Product Specifications for custom or catalog products
Lot-to-lot reproducibility is maintained by concentration measurement, activity measurement and functional testing.
Comparative Ligase Quality Data
NEB's ligases have been widely adopted by the molecular biology community due to their reliable activity, flexible formulations, and affordable price point. NEB's ligases undergo several quality evaluations before they are packaged for customer use. For details on the specific quality controls that NEB's ligases are required to pass, click
here
. Examples of how NEB's ligases compare to competetors', with regard to purity, can be found below.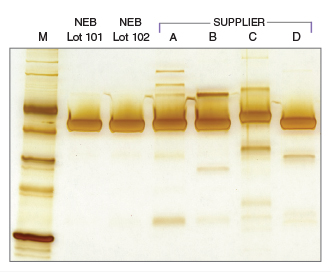 Comparative Restriction Enzyme Quality Data
NEB's restriction enzymes have enjoyed a decades-long reputation as being of the highest quality and value. Much of this reputation is owed to NEB's exacting quality controls for restriction enzyme quality and purity. For details on the specific quality controls that NEB's restriction enzymes are required to pass, click
here
. An example of how NEB's restriction enzymes compare to competitors', with regard to purity, can be found below.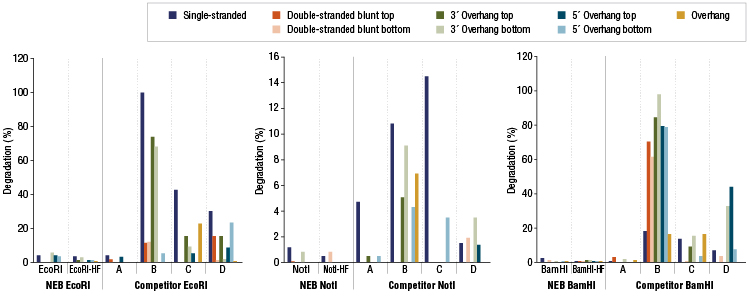 "GMP-grade" is a branding term NEB uses to describe reagents manufactured or finished at NEB's Rowley facility. The Rowley facility was designed to manufacture reagents under more rigorous infrastructure and process controls to achieve more stringent product specifications and customer requirements. Reagents manufactured at NEB's Rowley facility are manufactured in compliance with ISO 9001 and ISO 13485 quality management system standards. However, at this time, NEB does not manufacture or sell products known as Active Pharmaceutical Ingredients (APIs), nor does NEB manufacture its products in compliance with all of the Current Good Manufacturing Practice regulations.
Videos
Learn how NEB sets a new standard for life science reagents.