Isothermal Amplification, RT-qPCR and COVID-19
Welcome to the COVID-19 researcher spotlight
Hear from scientists around the world as they discuss publications related to COVID-19, new protocols and techniques for detection and characterization, as well as how the scientific community is coming together to address this pandemic...all in 19 minutes or less!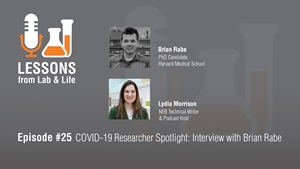 In this episode of the NEB podcast, Lessons from Lab and Life, hear from Brian Rabe of Harvard Medical School about his work applying RT-LAMP to develop a fast SARS-CoV-2 diagnostic assay.
Listen to Podcast
Doing COVID-19 related research?
Let us know what you are working on, so we can keep you informed on new COVID-19 related products and publications available from NEB.
Stay Informed
Interested in larger quantities?
Requests to obtain any of these products in larger quantities in connection with the COVID-19 crisis should be forwarded to [email protected].

For more general inquiries or questions, please feel free to contact us at [email protected].
Inquire