Phage Display
Phage display technology is an in vitro screening technique for identifying ligands for proteins and other macromolecules. At the crux of phage display technology is the ability to express peptide or protein sequences as fusions to the coat proteins of a bacteriophage. Libraries of phage-displayed peptides or proteins are thereby physically linked to their encoding nucleic acid, allowing selection of binding partners for myriad target types by iterative rounds of in vitro panning and amplification, followed by DNA sequencing. Libraries of over a billion members can be screened in a matter of days, offering an efficient alternative to more traditional methods of epitope mapping, receptor ligand identification, or protein evolution.
---
Choose Type:
Protocols for Phage Display
Application Notes for Phage Display
Publications related to Phage Display
Applications
Epitope mapping
Identification of protein-protein contacts (1) and enzyme inhibitors (2)
Discovery of peptide ligands for GroEL (3), HIV (4-7), semiconductor surfaces (8) and small-molecule fluorophores (9) and drugs (10)
Bioactive receptor ligands have been identified both by panning against purified receptors (11-14) and against intact cells (15-18)
Peptides which target specific cell types have been isolated by in vitro panning and used for cell-specific gene delivery (19-22)
Ligands for mold spores (23) and bacterial cells (24) have also been identified using this system, including a peptide that specifically inhibits anthrax toxin, both in vitro and in vivo (25)
Tissue-specific peptides have been isolated by in vivo panning, in which phage is injected into a live animal, the relevant organs harvested and phage isolated from each tissue type (26,27)
References
Phage Display Overview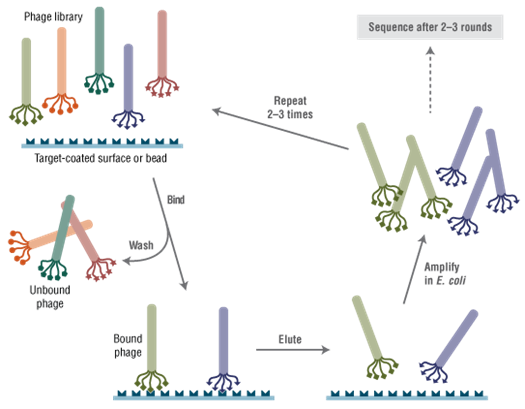 Legal Information
This product is covered by one or more patents, trademarks and/or copyrights owned or controlled by New England Biolabs, Inc (NEB).
While NEB develops and validates its products for various applications, the use of this product may require the buyer to obtain additional third party intellectual property rights for certain applications.

For more information about commercial rights, please contact NEB's Global Business Development team at gbd@neb.com.

This product is intended for research purposes only. This product is not intended to be used for therapeutic or diagnostic purposes in humans or animals.
Videos
Isolating, by biopanning, the phage that binds to bone allows researchers to identify the peptide sequences that stimulate the differentiation of mesenchymal cells and potentiate bone repair.