Recombinase Polymerase Amplification and SIBA
Recombinase polymerase amplification (RPA) and strand-invasion based amplification (SIBA) are isothermal amplification methods enabled through the activity of a recombinase enzyme which help primers invade into double-stranded DNA. T4 UvsX is used in combination with its accessory protein, UvsY, and the single-stranded binding protein gp32 to form D-loop recombination structures for initiation of amplification by Bsu or other mesophilic strand-displacing DNA polymerase. RPA uses two oligonucleotides as forward and reverse primers like an "isothermal PCR" while SIBA also includes a longer invasion oligo to help facilitate the strand invasion and amplification. Uniquely, among the isothermal methods RPA can produce amplicons up to 1 kb (primer-to-primer distance). Both RPA and SIBA are typically done at ~37 °C, avoiding the higher temperatures of other methods, though nonspecific amplification can be a common challenge. Probes can be used with either method to detect specific products. In addition to diagnostic amplification applications, recombinase-based amplification has shown utility for clonal amplification in next generation sequencing workflows.
| Reaction Temperature | Amplicon Size | Detection Method(s) |
| --- | --- | --- |
| 37°C | <1,000 nt | Fluorescence, Lateral flow |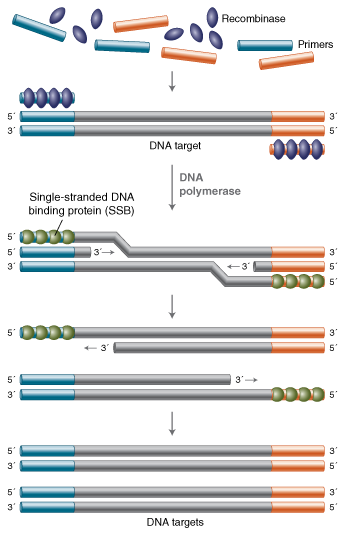 ---
Choose Type:
Legal Information
This product is covered by one or more patents, trademarks and/or copyrights owned or controlled by New England Biolabs, Inc (NEB).
While NEB develops and validates its products for various applications, the use of this product may require the buyer to obtain additional third party intellectual property rights for certain applications.

For more information about commercial rights, please email us at busdev@neb.com.

This product is intended for research purposes only. This product is not intended to be used for therapeutic or diagnostic purposes in humans or animals.