Business-to-business (B2B) integrations at New England Biolabs

NEB offers a wide range of business-to-business (B2B) integrations to help you streamline your eProcurement activities. We support industry-standard platforms and technology which allows us to partner with you to make the purchasing process more efficient, transparent, less resource-intensive and more cost effective.
We understand that each organization has its own requirements. Our experienced eBusiness team will work with you to develop a solution and project plan. Working closely with our own integration partner, we can offer "any to any" connections to our customers. We can match almost any format; if you have specific requirements that are unique to your business, we are happy to discuss how we can meet your specifications.
OFFERING
a wide range of
B2B integrations


SUPPORTING
industry-standard
or custom platforms


CREATING
efficient & transparent
purchasing process


COLLABORATING
with integration partners
to meet specifications
Benefits of Punchout
Punchout allows you to leverage all the benefits of NEB's website directly from within your own procurement system. You can quickly transact with us, browse our website to access a variety of product content, add products to your shopping cart, and then "punch back" these items directly into your procurement system.
NEB's Punchout supports Level I and Level II, real-time pricing and estimated shipping costs prior to checkout. Additional features available include quick order or batch upload a product list to your cart.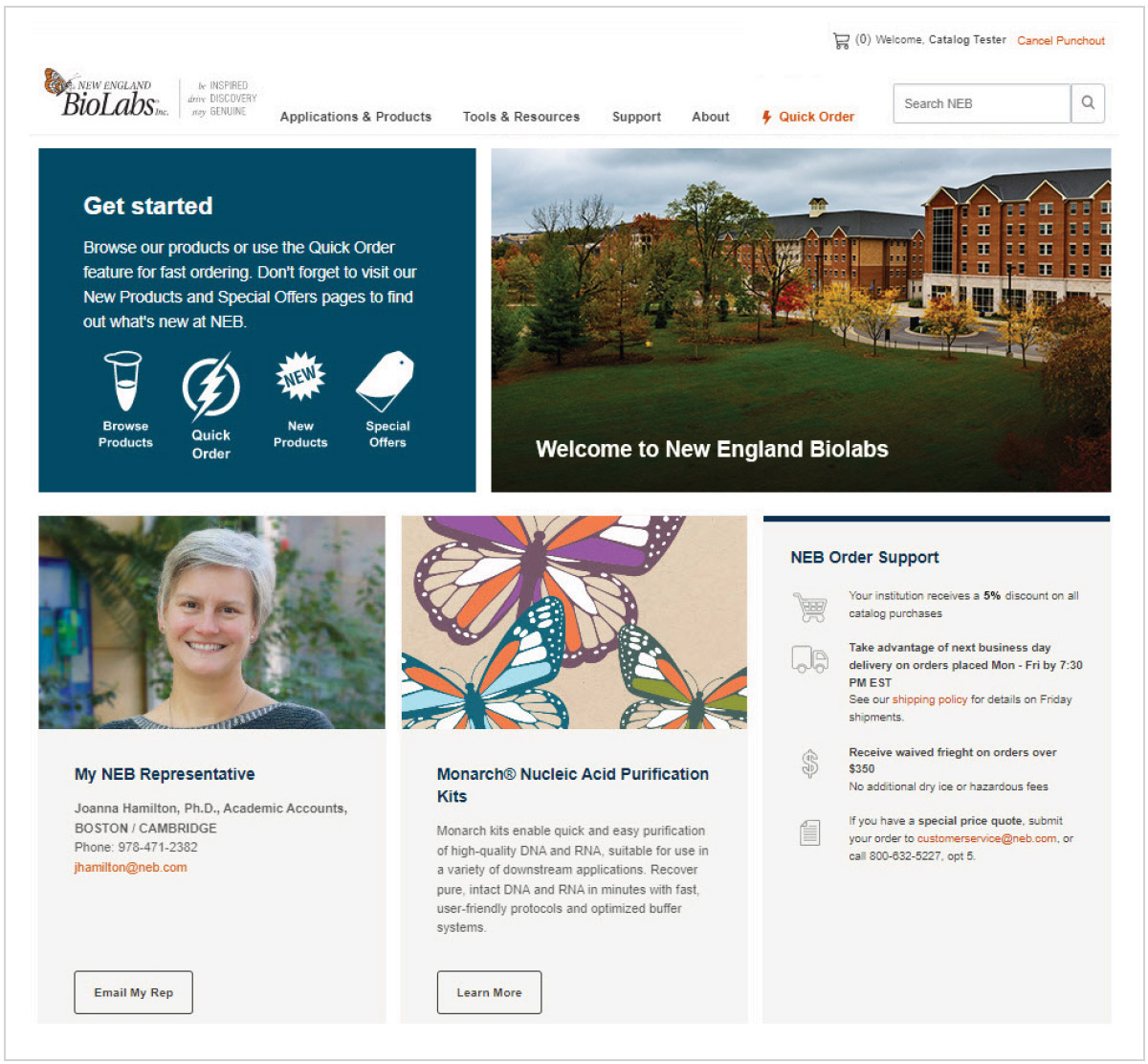 ---
Hosted/CIF catalogs
NEB's hosted catalog typically contain core data elements, including those most commonly requested, such as contract price, catalog number, product name and other details. You can also request classification of goods and services by UNSPSC codes, as well as file delivery in CIF, CSV, TXT, ASCII or XLS format.
Examples of supported platforms:
Coupa
ESM Solutions
Jaggaer
Lab Cloud
Netsuite
Oracle
Perfect Commerce
Point Purchasing
Prendio
Prodigo Solutions
SAP Ariba
Unimarket
Workday
If you don't see your eProcurement partner listed above, please contact us at businessops@neb.com. We do work with other partners, and can develop customized connections as needed.
Products and content are covered by one or more patents, trademarks and/or copyrights owned or controlled by New England Biolabs, Inc (NEB). The use of trademark symbols does not necessarily indicate that the name is trademarked in the country where it is being read; it indicates where the content was originally developed. The use of this product may require the buyer to obtain additional third-party intellectual property rights for certain applications. For more information, please email busdev@neb.com.

The use of these products may require you to obtain additional third party intellectual property rights for certain applications.
Interested in a eBusiness integration with NEB?
Consult with our eBusiness Specialist about your project.