Recycling styrofoam
Posted on Wednesday, April 21, 2021
By Nicole Kelesoglu
Topic: Environment and social responsibility
Expanded polystyrene (EPS), colloquially referred to as styrofoam, can theoretically be recycled, but in fact it is difficult to do.
Recycling EPS foam is eco-friendlier than both waste-to-energy combustion disposal and landfill disposal according to the EPA material waste hierarchy. The main reason that conventional recycling comes out on top is because it provides an alternative plastic resin resource for manufacturers of plastic goods. That reduces the need to manufacture new plastic resin from crude oil. The process to make new polystyrene uses way more energy and generates more pollution than the recycling process.
Unfortunately there are practical hurdles to EPS recycling. The low density property of this material means that a large piece of equipment called a foam condenser is required to reduce EPS volume before it can be transported to a local specialty recycling service. Then the downstream use of the recycled resin needs to be verified with the service. The global recycling crisis revealed that demand for recycled plastic resins by manufacturers is very limited. Consequently, EPS foam recycling is still not practical in many locations, and the majority of the material is landfilled, slowly degrading into microplastic particles. This reality leaves biologists concerned about potential ecotoxicity and indirect food web effects in soil and waterways.
Fortunately, there are new alternatives for life science shipping!
Scientists in the United States can now easily recycle paper based cold shippers from New England Biolabs. The NEB ClimaCell® Cooler is a 100% recyclable paper insulated shipper. It is easily recycled with widely available corrugated cardboard collections. The cooler design passed stress tests to protect reagents in transport, including stacking, vibration, and multiple drops from heights. Critically, its thermal capacity is maintained well beyond typical shipping windows.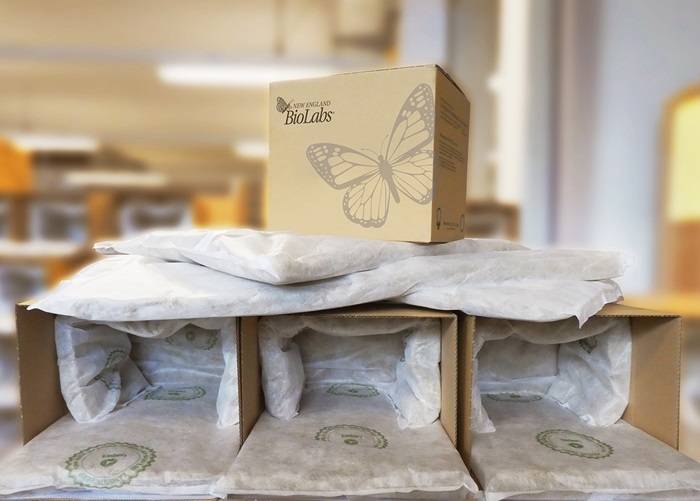 The Eco-Box insulated with locally grown hemp from NEB Germany.
New England Biolabs also aims for localized sustainability solutions for scientists internationally. For example, scientists in Austria and Germany receive reagents from NEB Germany in an Eco-Box, which is cold insulated with locally grown hemp fibers. These shippers are manufactured using renewable resources and far less energy than EPS shippers. Most scientific institutes there have established waste management programs including composting units and paper recycling streams. Therefore Eco-Boxes can easily be recycled and the insulation panels can go into compostable organics collections. For anyone who might not have access, NEB Germany also offers a free of charge pickup service for used boxes. Across the North Sea in the United Kingdom, NEB UK has begun transitioning to Eco-Boxes from EPS foam for most cold chain shipments. It's worth noting that NEB UK already ships 15% of product shipments at ambient temperature in 100% sustainably sourced paper Enviroflute envelopes. Circling back to the Americas, NEB Canada has also started using the ClimaCell® shipper. We are getting closer to global sustainability goals together.
Wherever your lab is, reuse is still the most environmentally friendly action for any shipments that require dry ice in an EPS cooler - like E.coli competent cells. EPS foam has always served as the gold standard for cold chain shipping biological materials, as it is light, durable and well-known for its insulative properties. These properties are still necessary to meet conditions for certain types of biologicals or in larger shipments. Since 1976, scientists have been using the free return label to send EPS shippers back to New England Biolabs - the first program of its kind. It's a history that shows that biologists are eco-friendly by nature.
Explore our ClimaCell® Cooler to open the shipper virtually or review its temperature stability data in detail.

NEB will not rent, sell or otherwise transfer your data to a third party for monetary consideration. See our Privacy Policy for details. View our Community Guidelines.
Don't miss out on our latest NEBinspired blog releases!
Be a part of NEBinspired! Submit your idea to have it featured in our blog.