Monarch® Nucleic Acid Purification Kits

It's time to transform your DNA purification experience. NEB's Monarch Nucleic Acid Purification Kits are optimized for maximum performance and minimal environmental impact. Our unique thin-walled column design uses less plastic, prevents buffer retention, eliminates the risk of carryover contamination, and enables elution in smaller volumes. The result: high performing DNA purification for your downstream applications.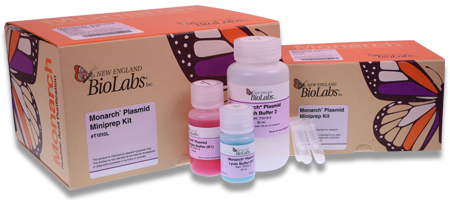 Optimize your results with our unique column design
Improved recovery of concentrated, pure DNA
Low volume elutions, resulting in highly-concentrated DNA
No buffer retention, eliminating the risk of carryover contamination
Learn more
Enhance your DNA purification experience
Fast, user-friendly protocols
Columns designed for easy labeling and handling
Improved buffer system for robust performance
Learn more
Feel good about choosing Monarch
Significantly less plastic in every kit
Custom-designed, thin-walled columns and collection tubes
Responsibly sourced and recyclable packaging
Packaging and protocol cards printed with water and soy-based inks
Reusable kit boxes
Learn more
Choose Monarch kits for pure value
Buffers and columns available separately
No additional shipping or handling charges
No hazardous materials fees**
Competitive pricing
Learn more


Interested in learning even more about Monarch? Download our
product brochure
.
MONARCH®, New England Biolabs®, and NEB® are registered trademarks of New England Biolabs, Inc.