RNA Markers & Ladders
NEB offers several RNA Markers and Ladders with a size range from 17 to 9,000 bases. The ssRNA Ladders (NEB #N0364, NEB #N0362) are suitable for use as RNA size standards on denaturing or native gels. Both are supplied with 2X Sample Buffer and feature a double intensity fragment to serve as a reference band. The microRNA Marker (NEB #N2102), provided in a ready-to-load denaturing solution, is ideally used as a size marker on denaturing polyacrylamide gels or Northern blots and is best visualized stained with SYBR-Gold. It is supplied with a 3´-biotinylated 21-meroligonucleotide probe that can be labeled with γ32-P-ATP and T4 PNK (NEB #M0201).
The dsRNA Ladder (NEB #N0363) is suitable for use as a size standard in dsRNA and RNAi analysis on both denaturing polyacrylamide and agarose gels.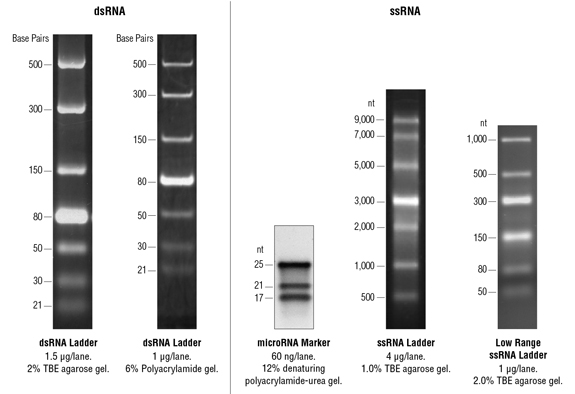 ---
Choose Type: