Bringing more COVID-19 testing to Africa
Posted on Thursday, January 27, 2022

By

Lydia Morrison, M.S.

& Tessa DeVoe

Topic: Environment and social responsibility

With so few Africans vaccinated against COVID-19, simple and sensitive tests are critical for saving lives. NEB is donating reagents to aid in the development of diagnostic tests (cLAMP) that can be used instead of PCR and can deliver rapid results detected by a simple color change. They are ideally suited for resource-poor areas by not requiring expensive laboratory equipment.
The state of pandemic efforts in Africa
COVID-19 testing is a major challenge in Africa. In October of 2021, the World Health Organization (WHO) released an assessment of testing in Africa, in which it estimated that 6 out of 7 COVID-19 infections go undetected. By October 10th of 2021, Africa had administered about 70 million tests to its population of 1.3 billion. For a point of reference, the U.S. had administered over 550 million tests to its population of 331 million, and the United Kingdom had administered 280 million tests to its population of 56 million.

Vaccination rates also lag with most African nations failing to reach the 40% vaccination target set by the WHO by the end of 2021. Only about 9% of Africans were fully vaccinated by the end of 2021.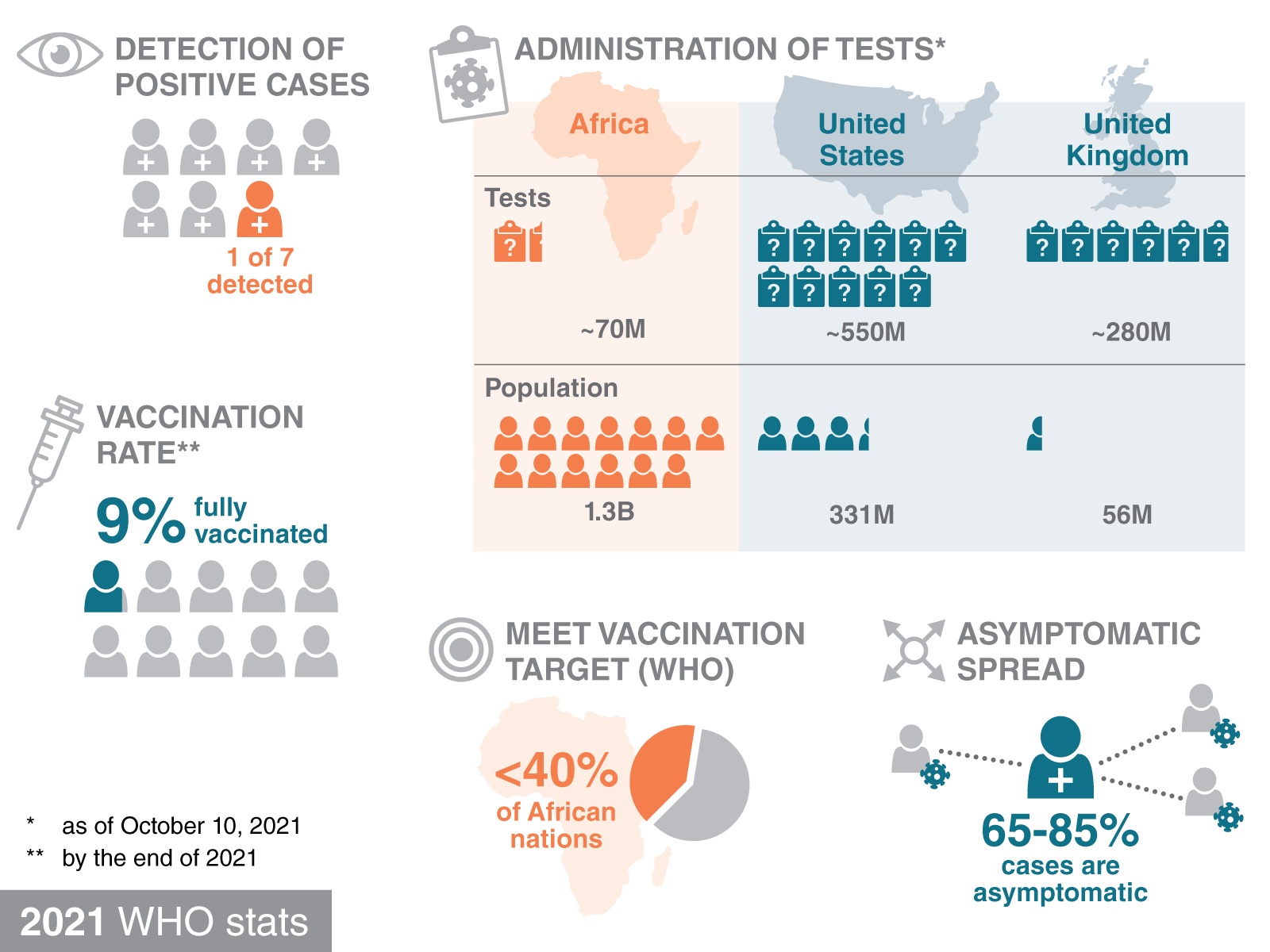 Without higher vaccination rates, increased testing can be used to protect communities from high rates of viral spread. Estimates indicate that 65% – 85% of the cases are asymptomatic, making it easy for infected individuals to spread the virus without their knowledge. To put it bluntly, the lack of inexpensive COVID-19 testing is a big problem in Africa.
African labs are successfully piloting RT-LAMP for molecular diagnostics
Efforts are being made to address the shortcomings of the COVID testing system in Africa. The WHO Regional Office for Africa
announced in October 2021
that it would focus $1.8 million in 8 countries to enhance COVID-19 community screening and testing accessibility, aiming to reach some 7 million Africans. The program employs a strategic approach to contact tracing, and provides rapid antigen diagnostic testing to those exposed. It also provides hygiene kits that include face masks and hand sanitizers, to households within a 100-meter radius of an infected person.
New England Biolabs
®
(NEB
®
) has collaborated with the International Centre for Genetic Engineering and Biotechnology (ICGEB) to help create an alternative method to diagnose COVID-19 based on the use of the reverse transcriptase
loop-mediated isothermal amplification
(RT-LAMP) assay. RT-LAMP is a rapid isothermal amplification technology requiring minimal equipment to carry out, making it an ideal method for locations with limited testing infrastructure. A multicenter observational
pilot study
has been completed in the African countries of Cameroon, Ethiopia, Kenya, and Nigeria, which demonstrated high specificity and sensitivity of a colorimetric RT-LAMP assay for COVID-19 detection. An expanded Phase II program will soon begin, with reagents donated by NEB, and funding by the Bill & Melinda Gates Foundation.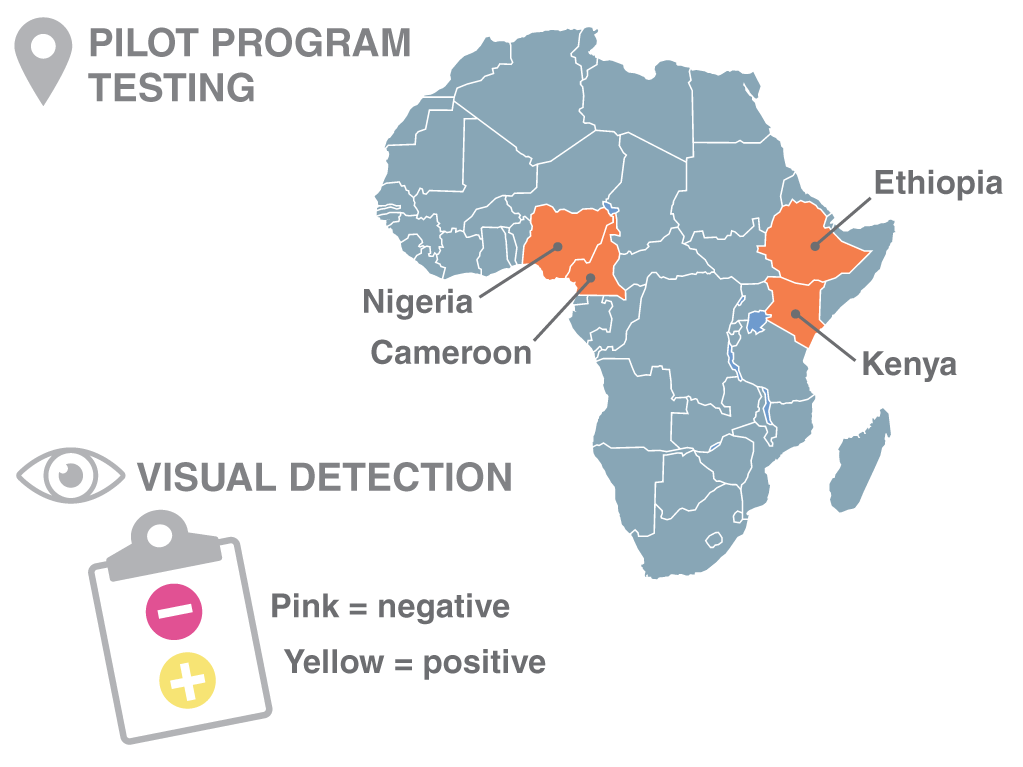 Test results with a simple change in color
The history of RT-LAMP development at NEB began in the early 2000s. Viral outbreaks in developing nations, such as SARS-CoV-1 (2002-2004), avian H1N1 influenza (2009), Zika (2007-2015) and Ebola (2013-2016 and 2018-2020) highlighted a need for simple, sensitive diagnostic tests that could be performed in low resource settings. With this in mind, NEB initiated research into a novel isothermal amplification technology called LAMP, which was
created by Eiken Chemical Co. Ltd.
Loop Mediated Isothermal Amplification (LAMP) Tutorial
In 2012, NEB demonstrated that the presence of a nucleic acid target could be detected using colorimetric
LAMP – an assay in which detection occurs through the visual color change of a dye caused by a change in pH
. This detection method does not require expensive equipment. Additionally, results can be obtained in 30 minutes and its sensitivity is close to that of qPCR. More recently, NEB was able to
show that RT-LAMP provided sensitivity similar to RT-qPCR
in the detection of COVID-19 from saliva rather than nasal swabs, making sample collection less invasive.
Overall, continued efforts are needed to enhance testing accessibility within African countries. Africa represents an important part of the global community and access to testing and vaccines impacts the state of the COVID-19 pandemic around the world. The success of alternative low-cost, rapid diagnostic methods in Africa could be a blueprint for other nations struggling to meet their population's COVID-19 testing needs.
NEB will not rent, sell or otherwise transfer your data to a third party for monetary consideration. See our Privacy Policy for details. View our Community Guidelines.
Don't miss out on our latest NEBinspired blog releases!
Be a part of NEBinspired! Submit your idea to have it featured in our blog.