The USER-friendly DNA engineering method allows combining multiple PCR fragment assembly, nucleotide sequence alteration and directional cloning. In this approach, target DNA molecules and cloning vector are generated by PCR with 6-10 bases of homology between the neighboring fragments. PCR primers contain a single deoxyuracil residue (dU) flanking the 3' end of the homology region, and can be designed to accommodate nucleotide substitutions, insertions and/or deletions. The primers are then used to amplify the vector and target DNA in discrete overlapping fragments that incorporate a dU at each end. The subsequent treatment of PCR fragments with USER Enzyme creates a single nucleotide gap at each location of dU resulting in PCR fragments flanked with single-stranded extensions that allow seamless and directional assembly of customized DNA molecules into a linearized vector. In this way, multi-fragment assemblies, as well as various mutagenic changes, can all be accomplished in a single-format experiment.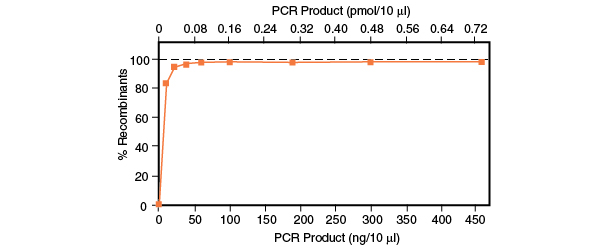 References:
Bitinaite J. et al. (2007) Nucl.Acids Res.35,1992-2002.
Bitinaite, J. and Nichols, N.M. (2009) Curr Protoc Mol Biol., Chapter 3, Unit 3.21.1-3.21.16
Vaisvila, R. and Bitinaite, J. (2013) Methods Mol.Biol. 978, 165-171.
---
Choose Type: