New Lab/Biotech Discount
Are you setting up a new lab – either research or biotech startup? Take advantage of our one-time 40% discount* to stock up on all of the high-quality reagents you'll need. Choose from our wide selection of:
Restriction
Enzymes
Polymerases
Ligases
Ladders
Competent
Cells
dNTPs
and much more.
New England Biolabs offers this one-time 40% discount to Principal Investigators who are starting up a new laboratory. The New Lab Discount applies to nearly all products carrying the NEB® label (other discounts or special offers do not apply). The New Lab Discount is available in the US only for end-users, and only one offer is available per Principal Investigator. Contact your local distributor to see if similar offers are available in your country.
To be eligible for the discount, please complete the New Lab/Biotech Discount form and note provisions cited at the bottom of this page*. NEB Customer Service will notify you upon approval of your online submission. If you require a Quote, please submit your list of products with Quantity, Product No, and Description via email to customerservice@neb.com and you will be provided with a Quote # (Sales order number) by NEB Customer Service. In order to receive the discount when you place your order, you must indicate that this is a "New Lab Discount" order (only include the Quote number if this was provided to you by NEB). You may place your order by phone, at 1-800-632- 5227, fax to 1-800-632-7440 or email to customerservice@neb.com. When faxing or emailing your order, it must be clearly marked either "New Lab Discount" or "New Biotech Discount". Please note these orders cannot currently be placed on the neb.com website.
In order to facilitate your first order with us, please make sure your account is established by filling out our New Account Application Form.
---
Get Started Setting Up Your Lab
NEB offers free shipping on all orders over $350 net value. Combine your orders, or group with other labs' to meet the $350 free shipping threshold.
Contact your local representative to discuss your ongoing reagent needs and the best way to help manage your funds.
Other Helpful Tools/Hints
* No minimum purchase is required to be eligible for the new lab discount. Limit one offer per commercial organization. $5000 (at discounted prices) maximum order. No other discounts apply. Note that normal shipping charges apply. NEB shipping charges are subject to change. View the list of products that are not eligible.
The NEB 2023-24 Catalog & Technical Reference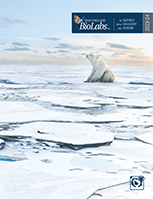 More than just a product catalog, it is a trusted reference tool for the molecular biology laboratory.






Request a Catalog