The genomes and biology of Wolbachia endosymbionts and their filarial parasite host
Mansonellosis is a disease that ranks first in prevalence among the human filariases; however, it is the least studied and most neglected of all filarial diseases. Mansonella perstans and Mansonella ozzardi are the two leading causes of disease in humans. Genome information is available for all major human filarial nematodes, except for Mansonella spp. Both Mansonella species harbor their unique obligate endosymbionts, the alpha-proteobacteria Wolbachia wMpe and wMoz, respectively. We utilize the latest genomic technologies to generate genome assemblies for M. perstans, M. ozzardi, wMpe and wMoz. The genomes will serve as an important resource for genomic, biochemical and molecular studies on filarial parasites and their symbiotic relationships. They will also enable the development of new diagnostic biomarkers and therapeutic tools.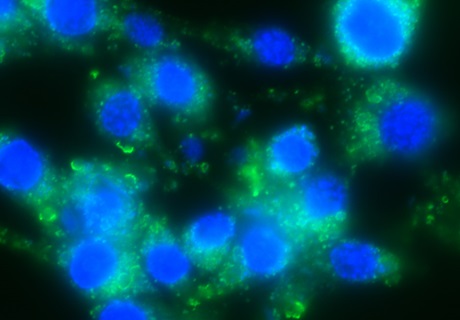 Immunostaining (green) of Wolbachia endosymbiotic bacteria in cells.