Purification of RNA from the Aqueous Phase Following TRIzol®/Chloroform Extraction using the Monarch® RNA Cleanup Kits
RNA isolation reagents containing guanidine thiocyanate and phenol (e.g., TRIzol, RNAzol®, QIAzol®, etc) combined with chloroform extraction, are often used for sample lysis and RNA purification. The aqueous phase from any guanidinium thiocyanate-phenol-chloroform extraction can be cleaned up using the Monarch RNA Cleanup Kits (NEB #T2030, T2040, T2050), thereby eliminating the need for tedious RNA precipitation steps.
Before You Begin:
Add 4 volumes of ethanol (≥ 95%) to the Monarch RNA Wash Buffer before use, as directed on the bottle.
All centrifugation steps should be carried out at 16,000 x g. (~13K RPM in a typical microcentrifuge). This ensures all traces of buffer are eluted at each step.
Protocol
Following guanidinium-thiocyanate-phenol-chloroform extraction, carefully transfer the upper aqueous phase into an RNase-free tube (not provided).


Add 1 volume of ethanol (≥ 95%). Mix well by pipetting up and down or flicking the tube. Do not vortex.


Insert an RNA cleanup column into a collection tube, load sample onto the column and close the cap. Spin for 1 minute, then discard flow-through. For diluted samples ≥ 900 μl, load a portion of the sample, spin, and then repeat as necessary.

To save time, spin for 30 seconds, instead of 1 minute.


Re-insert the column into the collection tube. Add 500 μl RNA Cleanup Wash Buffer and spin for 1 minute. Discard the flow-through.

To save time, spin for 30 seconds, instead of 1 minute.


Repeat wash (Step 4).


Transfer the column to an RNase-free 1.5 ml microfuge tube (not provided). Use care to ensure that the tip of the column does not come into contact with the flow-through. If in doubt, re-spin for 1 minute to ensure traces of salt and ethanol are not carried over to next step.


Elute in nuclease-free water according to the table below. The eluted RNA can be used immediately or stored at -70ºC. Care should be used to ensure the elution buffer is delivered onto the center of the matrix and not the wall of the column to maximize elution efficiency.



| KIT | ELUTION VOLUME | INCUBATION TIME | SPIN TIME |
| --- | --- | --- | --- |
| T2030 | 6–20 µl | N/A | 1 minute |
| T2040 | 20–100 µl | N/A | 1 minute |
| T2050** | 50–100 µl | 5 minutes (Room temp.) | 1 minute |


* When cleaning up large amounts of RNA (> 100 μg, NEB #T2050), some precipitation may occur following the addition of the Monarch RNA Cleanup Binding Buffer and ethanol to the sample (Steps 1 and 2). A pellet containing the RNA of interest may form on the side of the column following the first binding spin (Step 3). To maximize recovery of this RNA, a second elution is recommended.

** Yield may slightly increase if a larger volume is used, but the RNA will be less concentrated.

To save time, spin for 30 seconds, instead of 1 minute.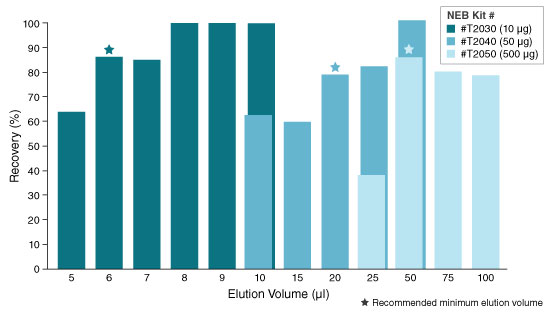 Additional Resources: