pMAL™
The system uses the pMAL™ vectors which are designed so that insertion of a target gene results in an MBP fusion protein. pMAL-c5 series has an exact deletion of the malE signal sequence, resulting in cytoplasmic expression of the fusion protein. pMAL-p5 series contains the normal malE signal sequence, which directs the fusion protein through the cytoplasmic membrane. pMAL-p5 fusion proteins capable of being exported can be purified from the periplasm. Between the malE sequence and the polylinker there is a spacer sequence coding for 10 asparagine residues. This spacer insulates MBP from the protein of interest, increasing the chances that a particular fusion will bind tightly to the amylose resin. The vectors also include a sequence coding for the recognition site of a specific protease. This allows the protein of interest to be cleaved from MBP after purification, without adding any vector-derived residues to the protein (1). For this purpose, the polylinker includes a restriction site superimposed on the sequence coding for the site of the specific protease, where the gene of interest is inserted. A number of other useful sites are present directly downstream to facilitate cloning.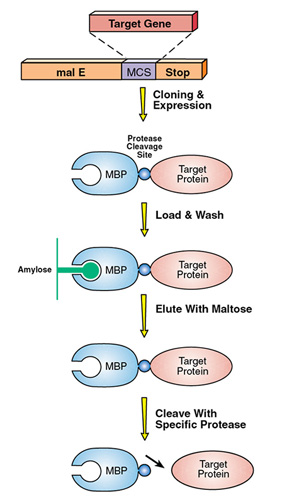 (1) LaVallie, E. R. and McCoy, J. M. (1990). In F. M. Ausebel, R. Brent, R. E. Kingston, D. D. Moore, J. G. Seidman, J. A. Smith and K. Struhl (Eds.), Current Protocols in Molecular Biology (pp. 16.4.1–16.4.17). New York: John Wiley & Sons, Inc.
pMAL™ is a trademark of New England Biolabs, Inc.
---
Choose Type: