IMPACT™
IMPACT™ (Intein Mediated Purification with an Affinity Chitin-binding Tag) is a novel protein purification system which utilizes the inducible self-cleavage activity of a protein splicing element (termed intein) to separate the target protein from the affinity tag. It distinguishes itself from all other purification systems by its ability to purify, in a single chromatographic step, a native recombinant protein without the use of a protease (1,2). A target protein is fused to a tag consisting of the intein and the chitin binding domain which allows affinity purification of the fusion protein on a chitin column. In the presence of thiols such as DTT or 2-mercaptoethanesulfonic acid (MESNA), the intein undergoes specific self-cleavage which releases the target protein from the chitin-bound intein tag resulting in a single-column purification of the target protein. In addition, with the use of pTXB1, native recombinant proteins that possess a reactive C-terminal thioester can be isolated for applications including protein ligation, semisynthesis and site-specific labeling (3,4).
The IMPACT™ Kit (NEB #E6901) contains expression vectors which allow fusion of the cleavable intein tag to either the C-terminus or N-terminus of the target protein. This flexibility in fusion protein construction maximizes the probability of successful expression and purification of a target protein.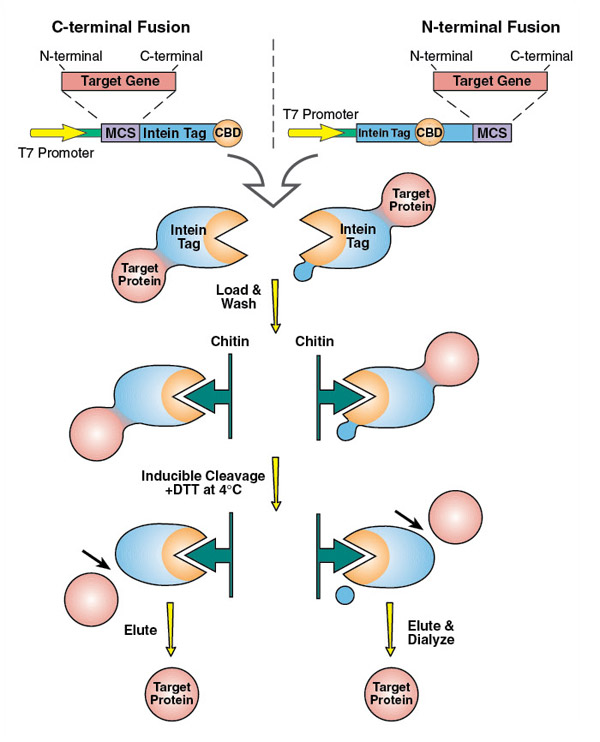 (1) Chong, S. et al. (1997) Gene, 192, 277–281. PMID: 9224900
(2) Chong, S. et al. (1998) Nucl. Acids Res. 26, 5109–5115. PMID: 9801307
(3) Evans, T.C. et al. (1998) Protein Science, 7, 2256–2264. PMID: 9827992
(4) Muir, T.W., Sondhi, D. and Cole, P.A. (1998) Proc. Natl. Acad. Sci. USA, 95, 6705–6710. PMID: 9618476
(5) Dubendorff, J.W. and Studier, F.W. (1991) J. Mol. Biol., 219, 45–59. PMID: 1902522
(6) Ghosh, I. et al. (2004) J. of Imm. Methods, 293, 85–95. PMID: 15541279
(7) Xu, J. et al. (2004) BioTechniques, 36, 976–978. PMID: 15211748
(8) Kochinyan, S. et al. (2007) BioTechniques, 42, 63–69. PMID: 17269486
(9) Sun, L. et al. (2004) BioTechniques, 37, 430–443.
(10) Sun, L. et al. (2007) Methods, 42, 220–226. PMID: 17532508
IMPACT™ is a trademark of New England Biolabs, Inc.
---
Choose Type:
Application Notes for IMPACT™
Advantages
Yields proteins with native sequence
One-step affinity purification with no additional steps to remove affinity tag
Release from the fusion partner without the use of proteases
Fusion to either the C-terminus or N-terminus of the target protein
The ability to label the C-terminus of the target protein
T7 Promoter for higher levels of expression and tight transcriptional control
The ability to introduce non-coded amino acids, fatty acids or chemically modified amino acid residues (segmental labeling of proteins for NMR analysis)
Expression and Purification of E. coli Maltose-Binding Protein (MBP) Using the pTXB1 Vector (pMXB10)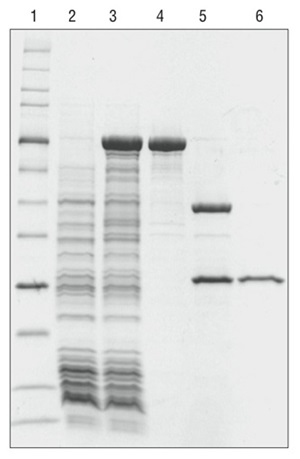 Legal Information
This product is covered by one or more patents, trademarks and/or copyrights owned or controlled by New England Biolabs, Inc (NEB).
While NEB develops and validates its products for various applications, the use of this product may require the buyer to obtain additional third party intellectual property rights for certain applications.

For more information about commercial rights, please contact NEB's Global Business Development team at gbd@neb.com.

This product is intended for research purposes only. This product is not intended to be used for therapeutic or diagnostic purposes in humans or animals.