Cell-Free Expression
A rapid method for gene expression analysis, PURExpress® is a novel cell-free transcription/translation system reconstituted from the purified components necessary for E. coli translation.
PURExpress® is a registered trademark of New England Biolabs, Inc.
---
Choose Type:
FAQs for Cell-Free Expression
Protocols for Cell-Free Expression
Application Notes for Cell-Free Expression
Publications related to Cell-Free Expression
The PURExpress® System Kit Components
His-Tagged Translation Factors

Initiation Factors (IF1, IF2, IF3)
Elongation Factors (EF-Tu, EF-Ts, EF-G)
Release Factors (RF1, RF2, RF3)
Ribosome Recycling Factor
20 Aminoacyl tRNA synthetases
Methionyl tRNA formyltransferase

E. coli Ribosomes
E. coli tRNAs
Energy Regeneration System
NTPs, Amino Acids, Salts, Buffer
In addition, recombinant T7 RNA polymerase is used to couple transcription to translation. The PURE system represents an important step towards a totally defined in vitro transcription/translation system, thus avoiding the "black box" nature of the cell extract-based systems.
Protein Expression Using the PURExpress® In Vitro Protein Synthesis Kit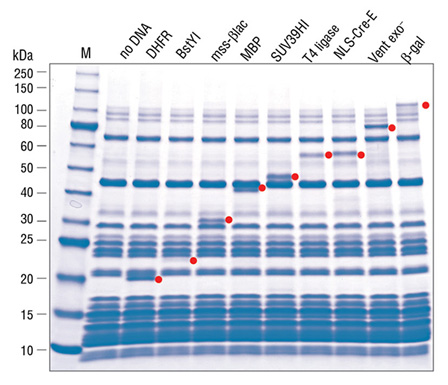 Videos
NEB has a long history in recombinant protein expression and has developed a wide array of solutions for proteins that are difficult to express.