Methyltransferases for Epigenetics
DNA methyltransferases are enzymes that modify DNA by adding a methyl group to either cytosines or adenines depending on the specificity of the enzyme. DNA methyltransferases can be used experimentally to methylate DNA at specific sites for gene expression studies. Our selection includes CpG methyltransferase (NEB #M0226), which is especially useful for studying CpG methylation effects. These enzymes are also useful for producing positive controls for methylation-specific PCR or bisulfite sequencing.
Several protein methyltransferases (G9A (NEB #M0235), SET7 (NEB #M0233), PRMT1 (NEB #M0234)) are also available for the methylation of specific lysine and arginine residues in Histone H3 and H4 in gene regulation studies.
---
Choose Type:
FAQs for Methyltransferases for Epigenetics
Other Tools & Resources

Brochures

Epigenetics Brochure

The Epigenetics brochure provides information on these unique solutions to study DNA and histone modifications. NEB offers a suite of validated products for epigenetics research.
Applications
Positive controls for methylation specific PCR or bisulfite sequencing
CpG-methylated gene expression studies
Nucleosome footprinting
Types of Histone Modifications
Amino Acid
Modification
Lysine
Methylation, Acetylation,
Ubiquitination, Sumoylation,
ADP-Ribosylation
Arginine
Methylation
Serine
Phosphorylation
Threonine
Phosphorylation
Types of DNA Modifications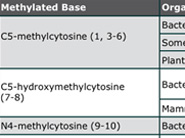 References
Videos
If all cells are created from the same genetic material, why are there so many different cell types? Listen to Sriharsa Pradhan, Senior Scientist, RNA Biology at NEB, as he describes how DNA is methylated and how this affects the path of reading the DNA code the same way an obstruction would derail a train off its tracks.