Starter Kits
To enable researchers to quickly and easily begin using our protein labeling system, our Starter Kits include all the components necessary to covalently attach either a red or a green fluorophore to SNAP-tag®, CLIP-tag™ or ACP-tag fusion proteins in living cells, fixed cells or in vitro. Each Starter Kit contains a plasmid encoding the tag of interest and two cell permeable or non-cell permeable fluorescent labels. A positive control plasmid encoding a tagged protein with a well-characterized sub-cellular localization is also included (e.g., membrane, nucleus, etc.). Where available, a negative control blocking agent is included that interacts with the tag of interest, but is non-fluorescent.
SNAP-tag® is a registered trademark of New England Biolabs, Inc.
CLIP-tag™ is a trademark of New England Biolabs, Inc.
---
Choose Type:
Protocols for Starter Kits
SNAP-Cell Starter Kit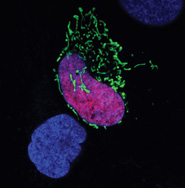 SNAP-Suface Starter Kit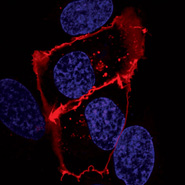 CLIP-Cell Starter Kit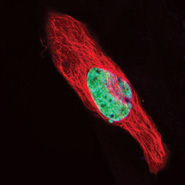 CLIP-Surface Starter Kit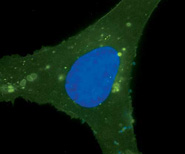 ACP MCP-Surface Starter Kit
Starter Kit Selection Chart
Legal Information
This product is covered by one or more patents, trademarks and/or copyrights owned or controlled by New England Biolabs, Inc (NEB).
While NEB develops and validates its products for various applications, the use of this product may require the buyer to obtain additional third party intellectual property rights for certain applications.
For more information about commercial rights, please contact NEB's Global Business Development team at
[email protected]
.
This product is intended for research purposes only. This product is not intended to be used for therapeutic or diagnostic purposes in humans or animals.
Videos
Watch as Chris Provost, of New England Biolabs, performs fluorescent imaging of live COS-7 cells expressing SNAP-tag® fusion proteins.

View an interactive tutorial explaining the mechanism of our SNAP-tag® technologies and reagents available for researchers wishing to study the function and localization of proteins in live or fixed cells.