Monarch® Nucleic Acid Purification Kits –
Optimize your results with our unique column design
< Return to NEBMonarch.com


Monarch purification columns have been custom designed to deliver excellent performance by eliminating buffer retention and the risk of carryover contamination, as well as minimize their environmental impact. The tapered design enables elution in as low as 30 μl for the
Miniprep Kit
and 6 μl for the
Gel Extraction
and
PCR & DNA Cleanup
kits.
Monarch Columns use less plastic than conventional columns, reducing their environmental footprint without compromising performance. The columns fit snugly into the collection tubes to enable easy handling. The
Monarch Miniprep Columns
feature a convenient tab so that you can label your columns easily without removing them from your tube rack. Monarch columns are suitable for use with centrifugation and vacuum purification protocols.
Unique Monarch column design
Monarch Plasmid
Miniprep Kit Column





Monarch DNA Cleanup Column
(Gel Extraction/PCR & DNA Cleanup Kits)


Many purification columns are built with a frit to hold the membrane in place. This frit can trap buffer during various steps in the protocol. Monarch Columns' silica matrix is held in place without the use of a frit, thereby eliminating buffer retention and ensuring worry-free purification.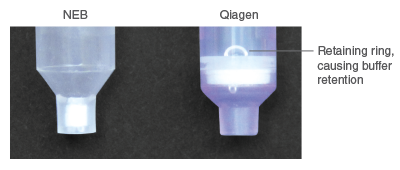 Available kits include:
Monarch Plasmid Miniprep Kit



This kit employs familiar cell resuspension, alkaline lysis and neutralization steps, with the additional benefit of color indicators to monitor completion. Elute in lower volumes for more concentrated, highly pure DNA samples. Learn more


Monarch DNA Gel Extraction Kit



Rapidly purify up to 5 μg of concentrated, high-quality DNA from your agarose gels, with no need to adjust pH. Elute in as little as 6 μl for a more concentrated sample. Learn more


Monarch PCR & DNA Cleanup Kit (5 μg)



Purify DNA from a variety of enzymatic reactions, including PCR, restriction digestion, ligation and reverse transcription. Learn more
Request a sample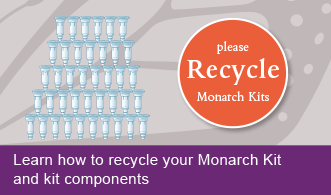 MONARCH® is a registered trademark of New England Biolabs, Inc.
QIAGEN®, QIAPREP® MINELUTE® and QIAQUICK® are registered trademarks of Qiagen, Inc.