Monarch® Nucleic Acid Purification Kits -
One kit for highly-pure RNA
< Return to NEBMonarch.com


Purify high-quality total RNA from cells, bloods, tissues and other sample types using the Monarch Total RNA Miniprep Kit. This comprehensive kit includes genomic DNA removal columns, DNase I, Proteinase K and a stabilization/preservation reagent, all at a competitive price. Purified RNA ranges in size from full length RNA's down to intact miRNAs and is ready for use in downstream applications including cDNA synthesis, RT-PCR, RT-qPCR and RNA-seq.
Reasons to choose The Monarch Total RNA Miniprep Kit
---
Purify high-quality RNA from multiple sample types and low input amounts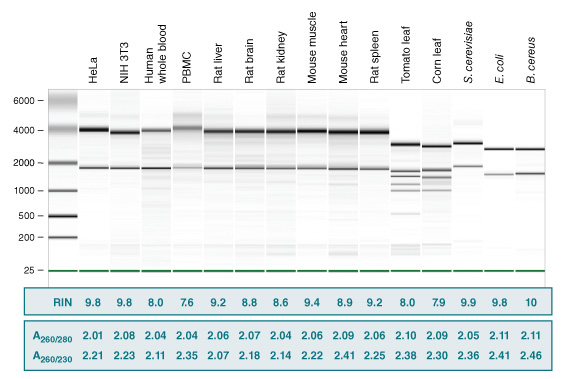 ---
Purify total RNA of all sizes, including RNA <200 nts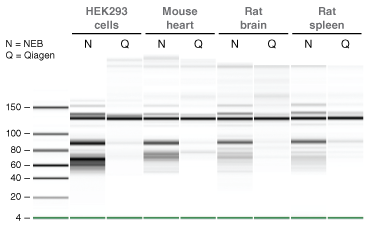 ---
Generate RNA suitable for RT-qPCR and RT-PCR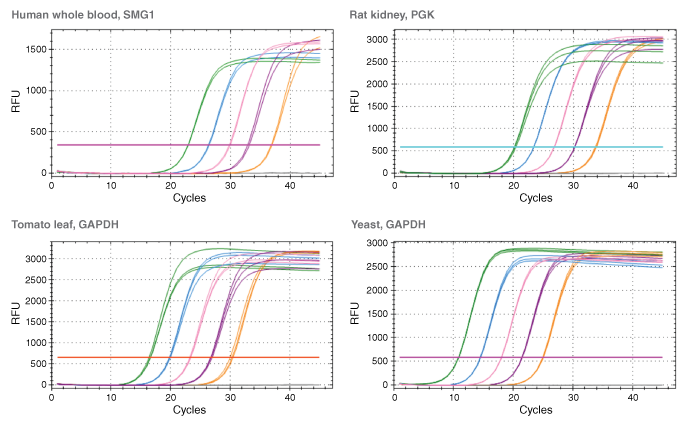 View additional RT-qPCR and RT-PCR data
---
Prepare high quality RNA-seq libraries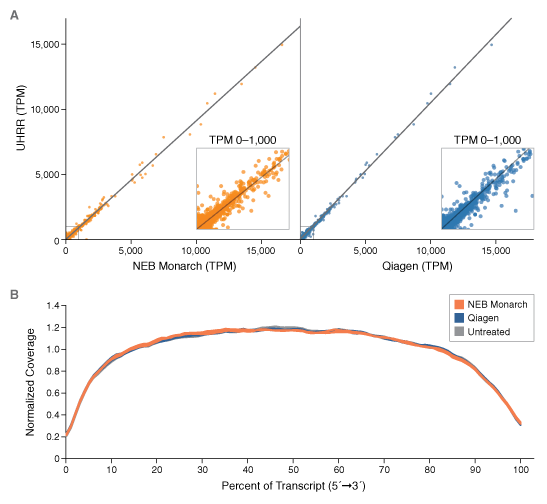 Additional Resources:
Available kits include:
Monarch Total RNA Miniprep Kit
Extract and purify up to 100 µg of high-quality RNA from a variety of sample types with a single, convenient kit. DNase I, gDNA removal columns, Proteinase K, and a protection reagent are all included. Monarch-purified RNA is ready to use in RT-PCR, RT-qPCR, RNA-seq and other applications.

Monarch Plasmid Miniprep Kit
This kit employs familiar cell resuspension, alkaline lysis and neutralization steps, with the additional benefit of color indicators to monitor completion. Elute in lower volumes for more concentrated, highly pure DNA samples.

Monarch DNA Gel Extraction Kit
Rapidly purify up to 5 μg of concentrated, high-quality DNA from your agarose gels, with no need to adjust pH. Elute in as little as 6 μl for a more concentrated sample. Enjoy high yields and minimal hands on time.

Monarch PCR & DNA Cleanup Kit (5 μg)
Purify DNA from a variety of enzymatic reactions, including PCR, restriction digestion, ligation and reverse transcription. Also isolate small DNA including oligos with a slight protocol modification.
Request a sample
Videos
This video walks you through RNA purification from a wide variety of sample types using the Monarch Total RNA Miniprep Kit.

Optimize the results of your RNA extractions with these simple tips from our scientists.
One or more of these products are covered by patents, trademarks and/or copyrights owned or controlled by New England Biolabs, Inc. For more information, please email us at gbd@neb.com. The use of these products may require you to obtain additional third party intellectual property rights for certain applications.