Monarch® Nucleic Acid Purification -
Highly-pure DNA for downstream applications
< Return to NEBMonarch.com


Monarch purification columns have been custom designed to deliver excellent performance by eliminating buffer retention and the risk of carryover contamination, as well as minimize their environmental impact. The tapered design enables elution in as low as 30 μl for the
Miniprep Kit
and 6 μl for the
Gel Extraction
and
PCR & DNA Cleanup
kits.
Monarch Columns use less plastic than conventional columns, reducing their environmental footprint without compromising performance. The columns fit snugly into the collection tubes to enable easy handling. The
Monarch Miniprep Columns
feature a convenient tab so that you can label your columns easily without removing them from your tube rack. Monarch columns are suitable for use with centrifugation and vacuum purification protocols.
Monarch kits deliver optimum performance
Together with our enhanced buffer system, Monarch columns deliver excellent performance. Select a thumbnail to view the data for each product.
Monarch Plasmid
Miniprep Kit

Monarch DNA
Gel Extraction Kit




Monarch PCR & DNA
Cleanup Kit (5 μg)



Unique Monarch column design
Monarch Plasmid
Miniprep Kit Column




Monarch DNA Cleanup Column
(Gel Extraction/PCR & DNA Cleanup Kits)


Many purification columns are built with a retaining ring to hold the membrane in place. This can trap buffer during various steps in the protocol. Monarch Columns' silica matrix is held in place without the use of a retaining ring, thereby eliminating buffer retention and ensuring worry-free purification.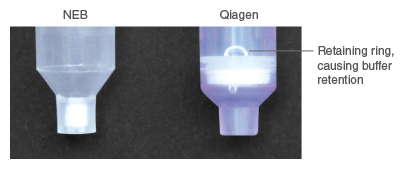 Improved buffer system
All buffers are available for purchase separately (as are columns)

Miniprep Kits



Our colored buffers help you easily identify the correct buffer to use


Color indicators help monitor completion of certain steps


RNase is already added to Monarch Plasmid Neutralization Buffer (B3) for convenience – no need to worry if you remembered to add RNase!



Gel Extraction and PCR & DNA Cleanup Kits



No pH adjustment steps necessary with Monarch Kits! Our buffers have been designed to eliminate the need to monitor the pH of your reaction, saving you a step.
Columns designed for easy labeling and handling
Monarch columns have been designed for a snug fit into the collection tubes for easy handling. This is especially helpful when taking columns in and out of the centrifuge.


The Monarch Miniprep Column has a convenient tab for easy labeling. There is no need to remove the column from your tube rack! (And don't worry – you can easily label our cleanup columns too – they are capped).
One or more of these products are covered by patents, trademarks and/or copyrights owned or controlled by New England Biolabs, Inc. For more information, please email us at

[email protected]

. The use of these products may require you to obtain additional third party intellectual property rights for certain applications.