RNA Ligases
NEB offers a selection of products for the ligation of single-stranded or double-stranded RNA to either RNA or DNA. Our RNA Ligase Selection Chart lists all of the ligases available for RNA, along with their recommended application.
---
Choose Type:
Protocols for RNA Ligases
Reagents for RNA Sample Preparation
RNA Polymerase Selection Chart
RNA Ligase Selection Chart
cDNA Synthesis Selection Chart
Applications of T4 RNA Ligase 2, Truncated K227Q
Ligate a pre-adenylated DNA or RNA sequence tag to the 3´-end of any RNA
Join a single stranded adenylated primer to small RNAs for cDNA library creation
Join a single stranded adenylated primer to RNA for directional cDNA library construction
Advantages of the 5' DNA Adenylation Kit
Enzymatic 5´-adenylation of ss-DNA linkers for next gen sequencing
One step reaction gives quantitative adenylation.
Simpler than existing chemical and enzymatic methods.
Reduces need for purification of reaction product
65°C reaction temperature reduces secondary structural concerns
Easily scalable from pmol to μmol range
Lower Undesired Ligation Products with T4 RNA Ligase 2 Truncated K227Q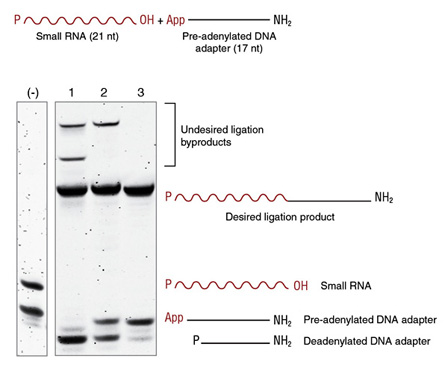 Reported Activities and Applications for T4 Ligases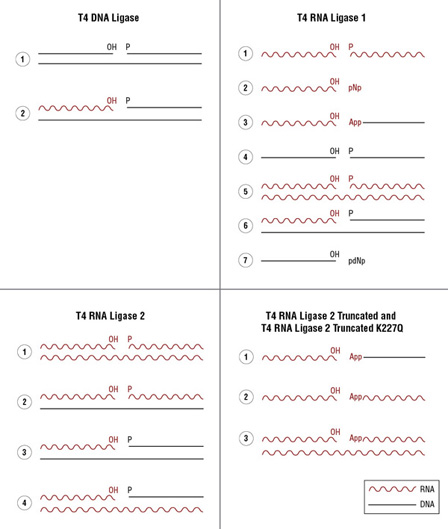 Relative Efficiency of T4 Ligases on Nicked Subtrates*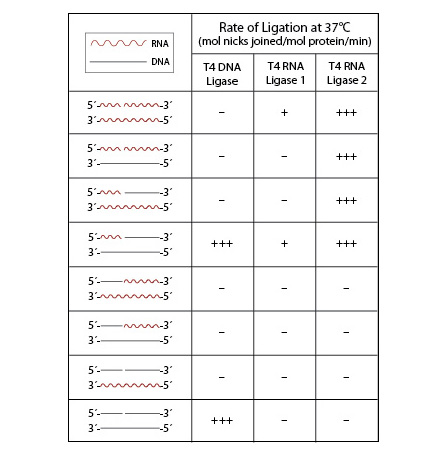 Legal Information
Products and content are covered by one or more patents, trademarks and/or copyrights owned or controlled by New England Biolabs, Inc (NEB). The use of trademark symbols does not necessarily indicate that the name is trademarked in the country where it is being read; it indicates where the content was originally developed. The use of this product may require the buyer to obtain additional third-party intellectual property rights for certain applications. For more information, please email busdev@neb.com.

This product is intended for research purposes only. This product is not intended to be used for therapeutic or diagnostic purposes in humans or animals.