LyoPrime® Lyophilized Products from NEB

With the point-of-care market becoming more focused on the development of robust, accurate and cost-effective diagnostic tests for use outside of traditional hospital and laboratory settings, there is a growing need for reagents that can withstand ambient shipping and storage. Lyophilization is the preferred solution and is a well-established technology across a number of industries.
Bringing together expertise in enzyme development, manufacturing and lyophilization, NEB Lyophilization Sciences has created shelf-stable, lyophilized products that do not sacrifice the high-performance qualities of their liquid counterparts. The first of these products includes a mixture of enzymes and inhibitors to enable robust detection of RNA via hydrolysis-probe-based RT-qPCR. The ability to develop complex, yet simple to use lyophilized products enables us to provide a more complete solution for our customers, particularly those in the molecular diagnostics space.
Read our white paper on key considerations for optimal lyophilized reagent development and view the NEB TV webinar on lyophilizing reagents: requirements, challenges, and considerations for assay developers. Learn more about the benefits of using lyophilized reagents in our feature article: Enhancing Molecular Diagnostics in Regulated Markets with Lyophilized Assays.
When customization is needed, primers/probes can be easily added to these core reagents. NEB Lyophilization Sciences can also further customize for use in platforms or devices to make a lyophilized product a custom, "ready-to-use" solution. This greatly simplifies testing, removes the need for automation, and reduces chances for human and operational errors. NEB Lyophilization Sciences has extensive experience freeze-drying some of NEB's most popular amplification products, effectively reducing the research and development timelines of custom products. By building upon reagents that have already been optimized and lyophilized, we have dramatically simplified the process of creating a custom formulation, reducing the time it will take to achieve your project goals.
Visit our OEM & Customized Solutions page or contact us for more information on custom product offerings.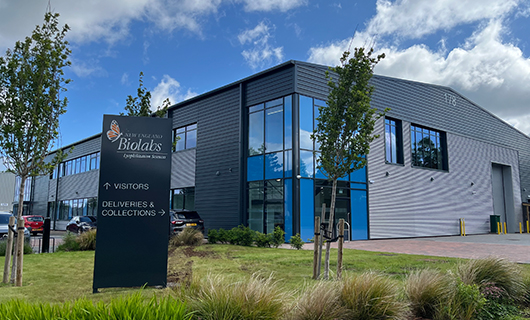 NEB Lyophilization Sciences currently resides in Porton Science Park, Porton Down, Salisbury, Wiltshire,
United Kingdom. In Fall 2023, we will be expanding to a 30,000 sq. ft. purpose-built facility in Oxford to meet
our customer's lyophilization needs at scale.
Featured Product: LyoPrime Luna® Probe One-Step RT-qPCR Mix with UDG
LyoPrime Luna® Probe One-Step RT-qPCR Mix with UDG enables sensitive detection of target RNA sequences in a room temperature-stable format. This product contains the same versatile features and strong performance as the liquid version: Luna® Probe One-Step RT-qPCR 4X Mix with UDG (NEB #M3019).
Simply add nuclease-free water for rapid rehydration


Store at room temperature for up to 2 years prior to rehydration


Eliminate cold chain shipping requirements


Multiplex up to 5 targets to increase throughput


Increase reaction specificity and robustness with our unique pairing of Luna WarmStart® RT and Hot Start Taq


Prevent carryover contamination with Thermolabile UDG and dUTP included in optimized mix


Maintain RNA integrity with Murine RNase Inhibitor included in optimized mix


Eliminate pipetting errors with non-interfering, visible blue tracking dye
Learn more about Luna products for qPCR and RT-qPCR at LUNAqPCR.com.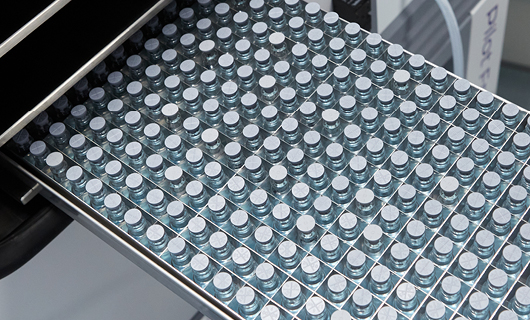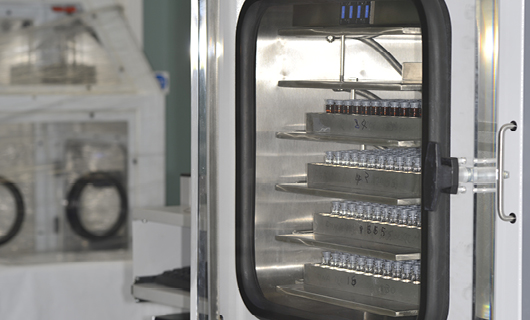 Drying step of the lyophilization process for LyoPrime Luna RT-qPCR Master Mix vials
Products and content are covered by one or more patents, trademarks and/or copyrights owned or controlled by New England Biolabs, Inc (NEB). The use of trademark symbols does not necessarily indicate that the name is trademarked in the country where it is being read; it indicates where the content was originally developed. The use of this product may require the buyer to obtain additional third-party intellectual property rights for certain applications. For more information, please email busdev@neb.com.
Videos
Learn more about our new LyoPrime® portfolio of lyophilized reagents to support workflows requiring room-temp stable reagents. Hear how our ability to customize these reagents can enable rapid development of high-quality molecular assays.

In this video, learn about our LyoPrime Luna™ Probe One-Step RT-qPCR Mix with UDG, a lyophilized reagent analogous to our liquid format RT-qPCR 4X mix for sensitive detection of RNA targets.

This video describes the rehydration process for LyoPrime Luna™ Probe One-Step RT-qPCR Mix with UDG, a lyophilized reagent analogous to our liquid format RT-qPCR 4X mix for sensitive detection of RNA targets.
Interested in learning more?
Find out how NEB Lyophilization Sciences can support the development of your custom lyophilized assay.
Contact Us