Expression of Difficult Proteins
Many proteins are extremely difficult to express in heterologous expression systems. A vast number of factors may contribute to this problem. A common problem is that it can often be challenging for a foreign host to correctly fold a protein it does not normally produce. For example, in many experimental scenarios expression of a protein originating from a higher eukaryote is being produced in a bacterium where factors such as codon usage, translation rate, and redox potential are significantly different. Additionally, inherent properties of the target protein may represent challenges for the expression host. For example, a protein having multiple membrane spanning domains might not properly insert into membrane bilayers of the heterologous host or a protein might not be expressed in a soluble form. Finally, many proteins require post-translational modifications (e.g. glycosylation or phosphorylation) that are absent or significantly different from expression host to expression host.

There is no single solution for the expression of all classes of difficult proteins. Instead, expression problem-specific solutions that aim to better the chances of success can be used. For microbial expression systems, these solutions often come in the form of unique host strains that have been genetically modified to enhance the production of a certain difficult protein class. Other expression solutions seek to address problems by controlling aspects of how a target protein is produced. For example, some expression hosts allow for precise control of target gene expression. In addition, certain protein tags can help a protein to more efficiently insert into a host membrane or improve the solubility of a target protein.
---
Choose Type:
Expression of Difficult Proteins includes these areas of focus:
FAQs for Expression of Difficult Proteins
Protocols for Expression of Difficult Proteins
Application Notes for Expression of Difficult Proteins
Publications related to Expression of Difficult Proteins
Improvement of Protein Solubility with Lemo21(DE3)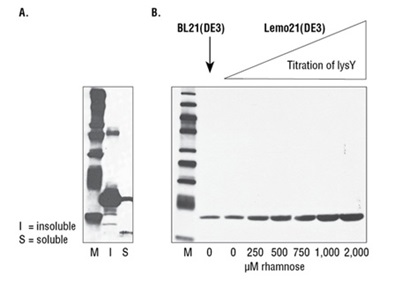 Disulfide Bond Formation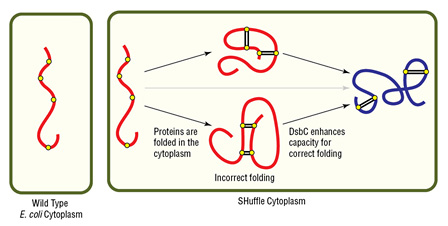 vtPA Expression in SHuffle®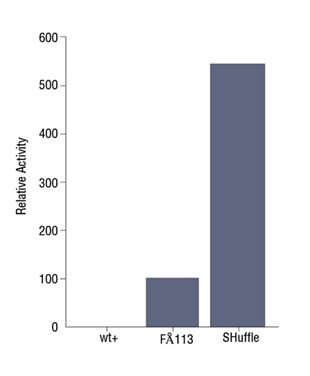 Legal Information
Products and content are covered by one or more patents, trademarks and/or copyrights owned or controlled by New England Biolabs, Inc (NEB). The use of trademark symbols does not necessarily indicate that the name is trademarked in the country where it is being read; it indicates where the content was originally developed. The use of this product may require the buyer to obtain additional third-party intellectual property rights for certain applications. For more information, please email busdev@neb.com.
This product is intended for research purposes only. This product is not intended to be used for therapeutic or diagnostic purposes in humans or animals.
Videos
NEB has a long history in recombinant protein expression and has developed a wide array of solutions for proteins that are difficult to express.