Disulfide-Bonded Protein Expression
Disulfide bonds are covalent bonds formed post-translationally by the oxidation of a pair of cysteines. Disulfide bonds can greatly increase the stability of a protein and are primarily found in proteins that reside outside the chaperone rich protective environment of the cytoplasm (e.g. secreted peptides, hormones, antibodies, interferons, extracellular enzymes, etc). Disulfide bonds can also serve catalytic (e.g. oxidoreductases) and signaling roles (e.g. oxidative stress response).
The redox state of the cytoplasm of eukaryotic and prokaryotic cells is reducing due to the presence of numerous disulfide bond reductases (e.g. thioredoxins and glutaredoxins). As such, any disulfide bond formed between two cysteines will quickly and efficiently be reduced back to its thiolate state. To form stable disulfide bonds within proteins, disulfide bond formation is typically segregated to compartments outside of the reducing cytoplasm. In eukaryotes, disulfide bond formation is catalyzed by protein disulfide bond isomerase (PDI) in the endoplasmic reticulum (ER), whereas in prokaryotes it is catalyzed by DsbA in the periplasm. An inherent problem in the process of disulfide bond formation is mis-pairing (mis-oxidation) of cysteines, which can cause misfolding, aggregation and ultimately result in low yields during protein production. Proteins that are mis-oxidized must be repaired and disulfide bonds must be shuffled back to their correctly oxidized native state. This is achieved by PDI in eukaryotes and DsbC by prokaryotes.
---
Choose Type:
FAQs for Disulfide-Bonded Protein Expression
Protocols for Disulfide-Bonded Protein Expression
Application Notes Disulfide-Bonded Protein Expression
Disulfide Bond Formation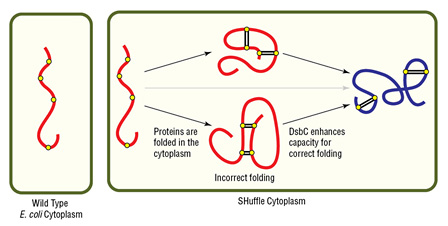 PfCHT1 Chitinase Expression in Shuffle® T7 Express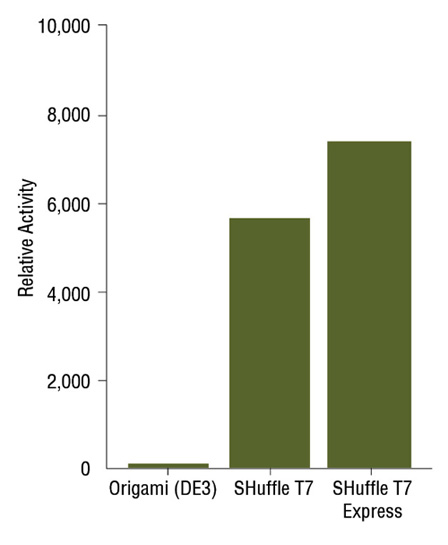 vtPA Activity Expression in Shuffle®